If Aladdin has taught us anything, it's that wishes come with a price. But what if you were wishing for something small and non-Jafar-like, such as people smiling more or not being so lonely?
That's the aim of website Crowdwish, which asks people to share their wishes online. Others can vote for their favourite wish, and at 7pm every day, the site takes action towards granting the most popular ones.
Previous winners have included 'I wish people would smile more' (they then filled Underground trains with funny signs - see below) and 'I wish I knew my neighbours better' (Crowdwish sent out 'Befriend your neighbours pack' containing customisable invitations, bunting and balloons).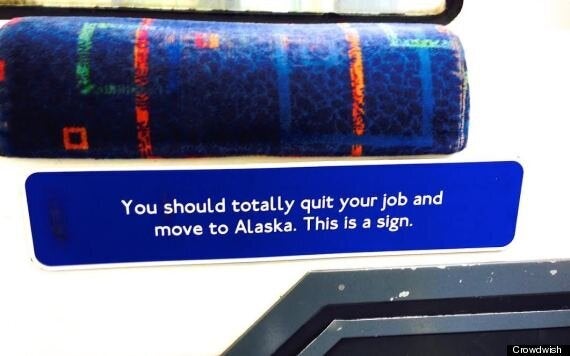 Speaking to HuffPost UK Lifestyle, Crowdwish founder and managing director Bill Griffin said he considers the site to be an "antidote to social media."
"We tweet something or we like something on Facebook - we put a particular opinion out to the world but nothing much happens.
"The point of Crowdwish is that once every 24 hours, something occurs, something that's real," he says.
Bill is certainly a man of his word - since the site launched in January of this year it has worked on 190 wishes, and counting.
The wishes granted range from the touching "I wish it was easier for children with autism to make friends" to the cheeky "I wish they made gentleman like they used to" - for the latter, the site provided the definitive ten step guide for the modern gentleman and offered a free cocktails night where an expert provided tuition on modern etiquette.
"We do the little small things, it's not a massive gesture where Peter Andre jumps out of a cake or something - the things we do are normal and non-extraordinary," Bill says.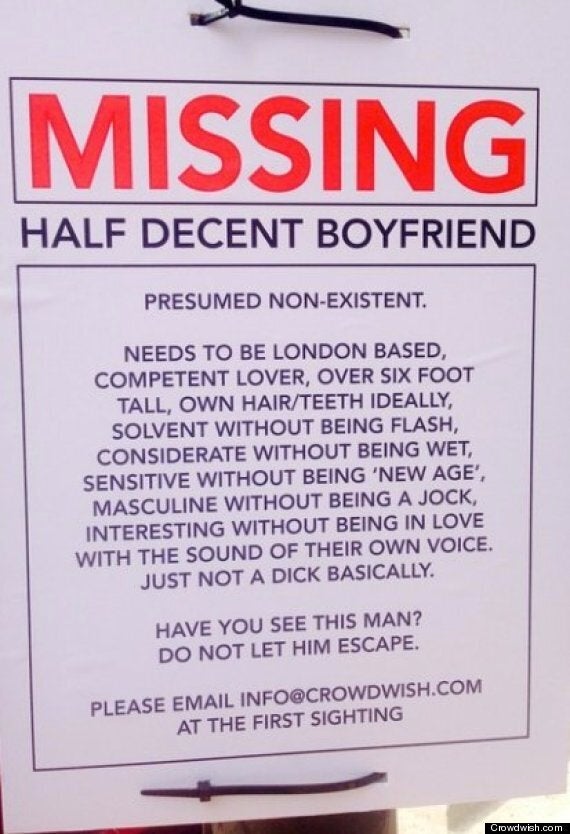 There are obvious flaws in the concept - what if somebody wishes for something that's completely unachievable?
"When I was first talking to my Dad about the concept, he said 'what about if someone wishes for world peace, you can't grant world peace,' but I say we don't claim to actually grant wishes.
"What we do is take some form of action, even if it's just a little thing, like a step in the right direction, to make that wish come true.
"People aren't idiots, they know that we can't stop the world from fighting, but part of the joy of the thing is knowing we will find an ingenious or imaginative way to help with what they've wished for," Bill says.
Bill had the idea for Crowdwish when he was working as a marketing director at TV station Comedy Central. Although he enjoyed his previous job, Bill says giving to the public every day is a more fulfilling occupation.
"I'd always wanted to make my own business and when I hit 40, I had this idea and thought, if I don't do it now I never will.
"When you do something each day where you help someone to achieve something they've always wished they could do, it has a big impact on people's lives and that's a gratifying thing.
"Without sounding horribly cheesy, people really like the site and have emailed me to say that what we've done for them has moved them to tears, so there's a huge amount of satisfaction to be derived from helping other people."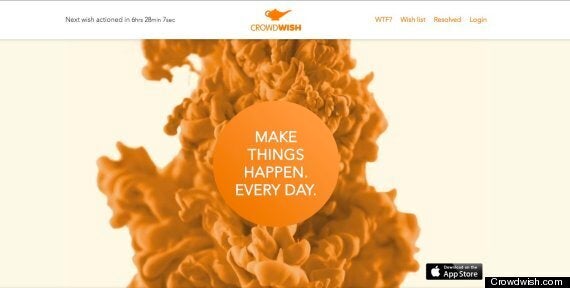 So, how is Crowdwish funded?
The site is partly funded by a private investment from a communications company, but in many cases the prizes or wishes cost Crowdwish nothing at all - external companies get involved for the free advertising, meaning everyone's a winner.
Bill explains: "A dude in Wales wrote 'I wish I was Batman' and became the top wish on the site so we contacted Warner Brothers. They gave us a bunch of stuff for this guy, like an amazing batman mask and some Tom Hardy signed merchandise from The Dark Knight Rises.
"Most organisations, if you approach them and say 'look we've got a constituency of people here who are really into what you're doing, do you want to engage with this community in some way' will want to do that - they spend all their marketing money to try and get their message out into the world in a way that's going to be relevant to people."
With its wish granting abilities, it's no wonder the site is popular - but Bill believes the open environment is another reason why so many people return to Crowdwish.
"In a really open way the site says 'you tell us what it is you want', it may be an experience, it may be a cause you believe in or it may be a physical product - we don't make any judgment at all on what it is that people ask for.
"Just because we're worried about the situation in Syria doesn't mean we haven't got our eye on a Michael Kors handbag. We're all a combination of our desires."
Crowdwish sounds too good to be true, but after our chat with Bill, we're convinced it isn't. The site genuinely makes wishes could come true and members of the public don't have to pay a penny to sign up.
The company simply aims to make people happy - and that is something we can all get on board with.