Motorola may have one of the best-looking smart watches in its portfolio but that hasn't stopped the company from making a 'digital' tattoo that will unlock your phone.
The creepy-looking wearable sticks onto your skin like a transfer and remains there for up to five days. It's completely waterproof and contains some artistically designed circuitry which will wirelessly unlock your Motorola Moto X using NFC.
Motorola also makes a wireless tag which clips onto your clothes whereas the tattoo will remain on your arm for the duration.
Created in partnership with VivaLnk the Digital Tattoo ironically looks just like a nicotine patch; but instead of shying you away from a smartphone addiction it just makes it easier.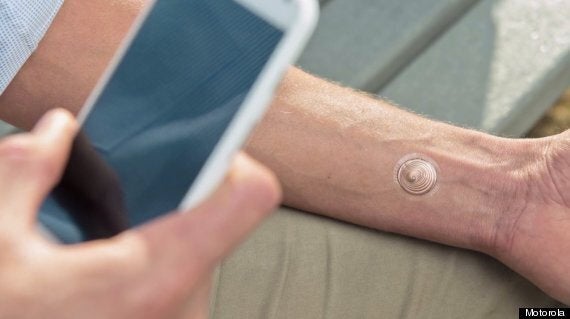 In case you think we're being dramatic check out the blurb:
"The size of a nickel, it blends in on your wrist. Though you might find it hard to resist giving a few demonstrations."
"A Digital Tattoo pack includes 10 tattoos—about a month's supply. Each will sync to your Moto X's NFC unlock."