Flyers are getting mixed messages about whether it is safe to fly to Israel after a Hamas rocket landed around a mile from the country's busiest international airport.
The rocket strike near Tel Aviv's Ben Gurion Airport prompted America's Federal Aviation Administration (FAA) to impose a 24-hour ban on flights from the US to Israel - Delta Airlines even turned one of its planes around midflight after the attack.
The rocket, which hit the back garden of a house, was the first direct hit on the Tel Aviv metropolitan area since Israel's offensive began, The Jerusalem Post reported.
Though many European and Canadian airlines followed the American example of cancelling the flights, big carriers such as BA are continuing to fly there as normal.
The carrier, which runs two flights a day to Tel Aviv, said on Twitter that it was "closely monitoring the situation" but all its flights were operating as usual.
This is despite the European Aviation Safety Agency "strongly recommending" carriers do not fly in or out of Israel.
Wednesday morning, a BA spokesman told The Huffington Post UK: "We continue to operate as normal. Safety and security are our highest priorities and we continue to monitor the situation closely."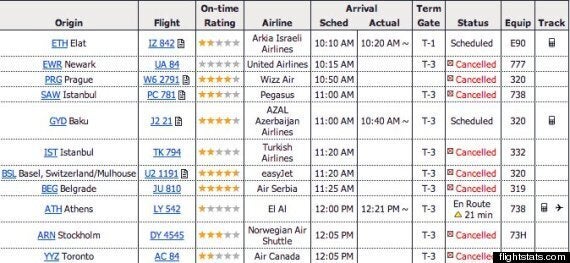 Some airliners were still flying into Ben Gurion this morning
EasyJet has also cancelled flights while German carrier Lufthansa has suspended flights to Israel for two days.
Korean Airlines meanwhile suspended operations to Israel on July 18 before the rocket landed near Ben Gurion, until Thursday.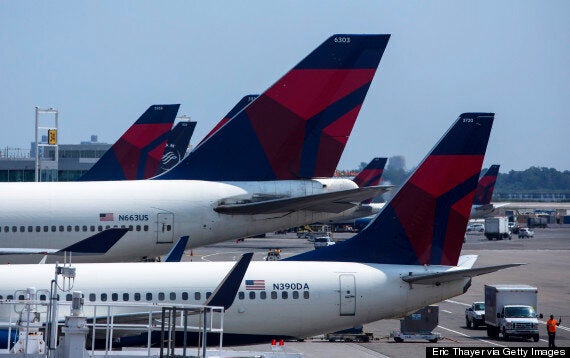 Delta Airlines had to turn around one of its flights midair after the Israel travel ban was imposed
The US flight ban came over the strong objections of the Israeli government, which insisted flying to the country was safe.
The country's transportation ministry said: "Ben Gurion Airport is safe and completely guarded and there is no reason whatsoever that American companies would stop their flights and hand terror a prize."
The FAA is expected to issue updated guidance later today.
Though no flight leaving Israel's main airport has ever been hijacked, a plane taken over by Palestinian terror group Black September was forced to land there in May 1972.
An Israeli commando raid retook the plane, killing and capturing all the terrorists, with one passenger killed.
Later that month, terrorists from the Japanese Red Army opened fire on passengers in an arrival area, killing 24.