Frank Lampard has signed for New York City FC, the Major League Soccer franchise have announced.
The 36-year-old, who left Chelsea at the end of last season after 13 seasons and a club record 211 goals, was presented by the club at a press conference on Thursday.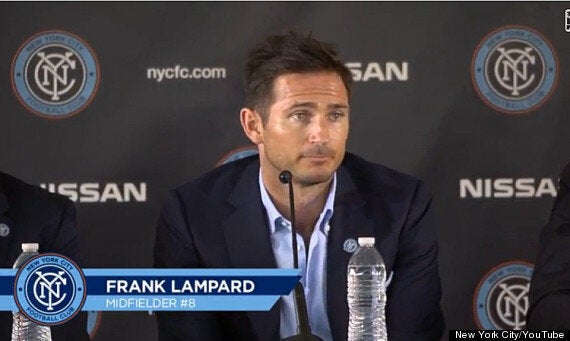 Frank Lampard has signed a two-year deal with New York City
The midfielder becomes New York City FC's fourth player and second major summer signing following the arrival of David Villa from Atletico Madrid.
Lampard, who has signed a two-year deal with his new club, made 649 appearances for Chelsea since signing from West Ham in 2001. He has played 106 times for England, scoring 29 goals.
He signed a one-year contract extension with the Blues in May 2013 after mulling over a move to Los Angeles Galaxy, who he will now play in opposition from next spring.
New York City FC sporting director Claudio Reyna said Lampard was "one of the greatest players over the last 15 years" and "ticked all the boxes" in terms of a signing.
The move appealed to Lampard, too.
Lampard said: "Why not chose New York City? For me talking about it ticking all the boxes, personally for me it does exactly the same.
"It's a very exciting challenge for me in life terms.
"I've seen a real long-term plan and I wanted to be part of that. I want to test myself, I want to carry on challenging myself."
Lampard admitted he had not spoken to his former England team-mate and ex-LA Galaxy captain David Beckham about the MLS.
"I know David pretty well, but we're not on every day speaking terms," Lampard added. "I've spoken to him about his experiences in the MLS (but) the decision was all mine.
"I'm coming to a great city and I wanted to show people that I can play good football."
Lampard is still to determine what the immediate future holds, given the season begins in 2015.
He added: "I'm going to keep fit, that's the main thing. How I do that is not clear yet. I'm going to sit round with people at the club and sort that out."
Popular in the Community