Like football stickers and Pokemon cards, the loom band craze is sweeping through school playgrounds at an unstoppable force.
But it turns out the phenomenon, which involves weaving colourful elastic bands together, is also attracting an unlikely audience - adults who see the bands as a lucrative money-making venture.
While the bands are traditionally used to make bracelets and keyrings for friends, the older crowd are getting somewhat creative...
Behold the 'loomkini', a unisex thong currently on sale on eBay.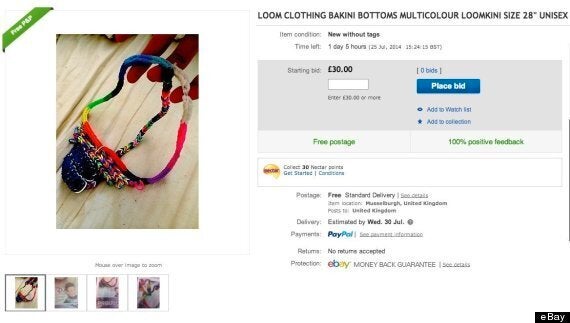 The skimpy item was created by 22-year-old Sam Innes, from Musselburgh, near Edinburgh, who reportedly spent over 24 hours weaving his creation.
"Was tricky but i got there," he writes. "Please appreciate the time and effort i made to do this! get bidddding everyone! ;)"
But, so far, Sam's venture hasn't been so successful.
His first eBay listing was removed for contravening the community's nudity standards (see below) and his most recent listing, with a modest reserve price of £30, has received no bids.