George Osborne has thanked the "hard work of the British people" as official figures out today showed that Britain's economy has fully recovered from the financial crash.
With gross domestic product estimated to have grown by 0.8% in the second quarter of 2014, this means that Britain's economy is now 0.2% bigger than its pre-recession peak.
Economy grew by 0.8%. Thanks to the hard work of the British people, today we reach a major milestone in our #LongTermEconomicPlan

— George Osborne (@George_Osborne) July 25, 2014
Deputy prime minister Nick Clegg has been even more chirpy, declaring that "the rescue has worked". He went on to boast: "Today is a big day for Britain - our economy is now the same size as it was before the crash."
Clegg has been especially proud of his party's role, saying: "There would be no recovery without the Liberal Democrats." He also pledged to make the economy "even stronger" as the UK moves "from rescue to renewal".
But ever the party pooper, HuffPost UK presents 11 graphs that illustrate a range of awkward economic problems the Chancellor would be less keen to talk about.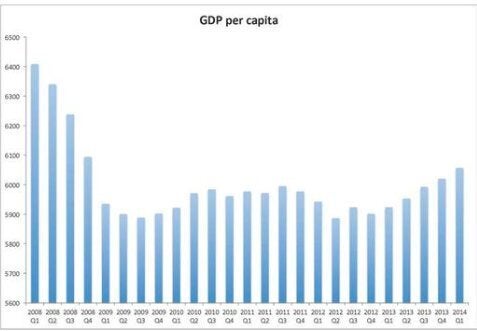 11 Facts George Osborne Wants You To Ignore Now The Great Depression Nears An End