Margaret Thatcher was told about alleged sex parties with under-age boys held by one of her closest aides claims her former personal bodyguard.
Barry Strevens, who worked as the prime minister's personal bodyguard, said that he passed on allegations about her confidant Sir Peter Morrison.
The former senior police officer said that Lady Thatcher appointed Sir Peter deputy party chairman of the Conservatives despite learning of the rumours.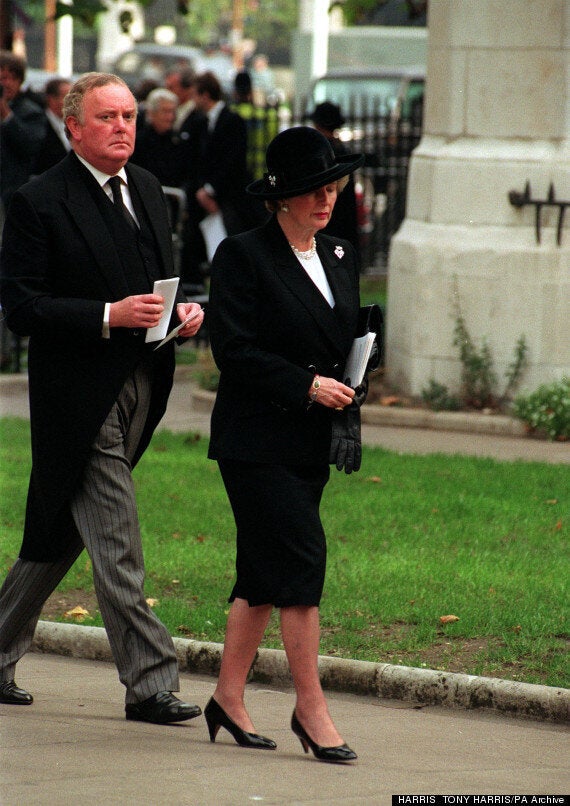 Thatcher with Sir Peter Morrison
The Old Etonian, who died of a heart attack in 1995 at the age of 51, has since been linked to claims of sex abuse at children's homes in North Wales.
Strevens, an ex-detective chief inspector, told the Sun on Sunday: "I wouldn't say she (Lady Thatcher) was naive but I would say she would not have thought people around her would be like that.
"I am sure he would have given her assurances about the rumours as otherwise she wouldn't have given him the job."
The former bodyguard said that he first found out about the claims from a senior Cheshire Police officer.
At the time, Sir Peter was being considered as the replacement for deputy party chairman after Jeffrey Archer had stood down over prostitution claims in 1986.
Strevens said that he "immediately" passed on the information to Lady Thatcher and her private secretary Archie Hamilton at a meeting in Downing Street.
"A senior officer in Chester had told me there were rumours going around about under-age boys - one aged 15 - attending sex parties at a house there belonging to Peter Morrison," he said.
"After we returned to No10 I asked to go and see her immediately. It was unusual for me to do that, so they would have know it was something serious.
"When I went in Archie Hamilton was there. I told them exactly what had been said about Peter. Archie took notes and they thanked me for coming.
"There was no proof but the officer I spoke to was certain and said local press knew a lot more."
Responding to the claims, Hamilton said that he remembered that the officer had been at No10 but could not recall any mention of under-age boys.
"I don't remember him saying they were under-age," he said. "There may have been but the point he was making to her was that there were only men involved.
"She listened to what he said and that was it. It was merely a party and men were there."
Tory grandee Lord Tebbit has previously stated that he confronted Sir Peter over the allegations and received a flat denial.
Former Conservative MP Edwina Currie also described him as a "noted pederast" with a liking for young boys.
Educated at Oxford and elected as MP for Chester in 1974, Sir Peter came from a wealthy political dynasty who own the whisky-producing island of Islay in the Hebrides.
His father was close friends with Lady Thatcher while his sister Mary is one of the Queen's most senior ladies-in-waiting.
Knighted in 1988, he later became the prime minister's parliamentary secretary before running her 1990 re-election campaign, which saw her lose office.
A full-scale investigation into claims of an alleged paedophile ring in Westminster was announced earlier this month by Home Secretary Theresa May.