"Di María debe estar el 5 de agosto en Valdebebas," reads AS' front cover, which translates as "Di María should be at Valdebebas on 5 August." However, speculation is intensifying that the Real Madrid forward doesn't want to return to the club's training base and is keen on joining Louis van Gaal's Manchester United revolution.
The signings of James Rodríguez and Toni Kroos have marginalised Di María, man of the match in the Champions League final, at Real and with Cristiano Ronaldo and Gareth Bale guaranteed starters in Carlo Ancelotti's forward line there no longer seems to be a role for the Argentinean.
Di María adapted well to a deeper attacking role last season but Kroos' arrival is bad news for the 26-year-old winger. Ironically, Di María's supposed desire to move to Manchester is tempered by Van Gaal's preference for a 3-4-1-2 formation the Real man is unsuitable for. United need centre-backs, central midfielders and full-backs more than wingers, despite their maligned wide men.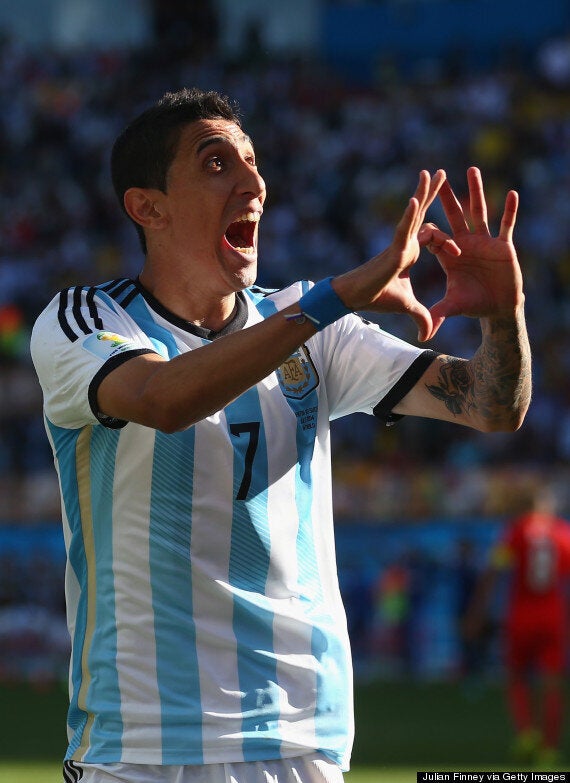 Di María scored Argentina's last 16 winner against Switzerland at the World Cup
Antonio Valencia is extraordinarily fortunate to have been gifted a new three-year contract but Nani and Ashley Young are playing for their futures, while Wilfried Zaha seems to be a man of the past. He is the only squad member not to have had a kick during the club's two pre-season matches in the United States.
Di María is superior than the aforementioned quartet and his work ethic improved under Ancelotti, although Van Gaal has plumped for a workhorse in the right wing-back role, having fielded Daryl Janmaat and Dirk Kuyt for the Netherlands at the World Cup. Valencia has already played there against LA Galaxy and Roma while the injured Rafael da Silva, a traditional full-back, replaced the Ecuadorian in the former fixture.
The injury-prone Da Silva's latest setback could benefit Di María, though. His departure from the tour will intensify the pressure on United's executive vice-chairman Ed Woodward, who claimed there was "no fixed budget" and United are "not afraid of... spending significant amounts of money in the transfer market".
Woodward left United's pre-season tour early last week, as he did in Australia last year, and the eerily similar circumstances and soundbites will heighten the scrutiny he has been under for well over a year. United's amateurish efforts in last year's transfer window resulted in the deadline day signing of Marouane Fellaini, but they have already spent £56 million on Ander Herrera and Luke Shaw this summer.