As violent attacks against Jewish communities and businesses continue in Europe, antisemitic incidents are also on the rise in Britain, according to new figures.
The chair of the All-Party Parliamentary Group Against Antisemitism, John Mann MP, will instigate a parliamentary report into anti-Jewish violence which has emanated from a spillover of the Middle East conflict, his office said on Monday.
"It is to our collective shame that antisemitic incidents have been proliferating throughout the UK and Europe in recent weeks. We must learn some lessons to ensure that Middle East tensions do not play out on the streets at home," Mann said in an emailed statement.
Up to 70 hate attacks have been reported in the UK since July 8th, coinciding with the start of Israel's offensive in the Gaza Strip, according to monitoring body the Community Security Trust (CST).
While Saturday's Free Gaza march in London passed off without much violent disturbance apart from isolated offensive placards and a banner, the CST said it expected more anti-Semitic incidents to be reported from the weekend.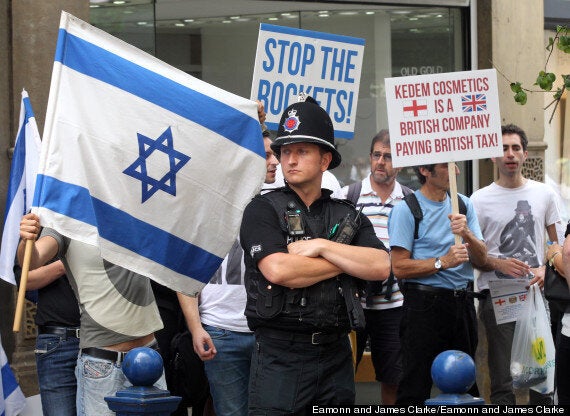 Protesters supporting both Israel and Palestine faced off outside Jewish owned "Kedem Cosmetics" on King Street
The trust said the attacks in Britain included:
Pro-Palestinian protesters assaulting and verbally abusing a Jewish woman who expressed support for Israel, calling her a 'Jew Zionist' and stealing her phone.
A Rabbi walking in north London was accosted by a gang who shouted "Free Palestine", "F*** the Zionists", "F*** the Jews" and "Allah Akhbar."
A brick was thrown at the window of a synagogue in Belfast.
"Baby murderers" was shouted at worshipers entering a synagogue in Liverpool
A "visibly Jewish" boy was hit by a stone allegedly thrown by a woman in a niqab as he cycled in north London
Police have charged four in connection with an assault on a rabbi in Gateshead
The group also cited an instance where pro-Israel demonstrator was knocked unconscious by counter-protesters, and though no anti-Semitic abuse has been reported, the CST said "this level of violence from pro-Palestinian protestors is a worrying development". A pro-Israel organisation also received a telephone bomb threat, the organisation added.
Tensions are high in Manchester with multiple demonstrations by both pro and anti-Israel activists outside the Kedem Cosmetics store, which stocks Israeli products from the Dead Sea, though the CST said it had not received any reports as yet of particularly anti-Semitic incidents.
"Another disturbing factor is that the proportion of anti-Semitic incident perpetrators described to CST as being of south Asian appearance has been much higher during this period than is normally the case," the organisation warned.
"The incidents reported to CST suggest [Muslim anti-Semitism] is playing a significant role in the high level of anti-Semitic incidents currently being reported."
Dave Rich, the organisation's deputy director for communications, wrote in a blog for Huffington Post on Friday that he hoped that other pro-Palestinian protesters on Saturday's march would not use Nazi or anti-Semitic rhetoric to make their point.
"If any Jewish people tell you that they are worried about anti-Semitism, this does not mean that they are apologists for the Israeli government or that they support each and every action of that government. It means they are worried about anti-Semitism. Listen to their fears and try to understand them," he said.
The CST has welcomed the statement from the Muslim Council of Britain last week. Dr Shuja Shafi said that although "we may hold strong views about the causes of the conflict and what needs to be done to bring the violence to an end, we are nevertheless resolved to ensure that the Israel-Palestine conflict does not affect the excellent relations held between Muslims and Jews in the United Kingdom.
"We urge all our communities to remember the importance of civility and courtesy between each other. We may hold different views on the conflict, and we may lobby and protest in accordance with our principled positions, but we are committed to ensure that this is not done at the expense of one another."
And a Belgian cafe that displayed a sign saying: 'Dogs allowed but Jews are banned' is facing legal action from an anti-Semitism monitoring group. The sign was written on the widow of the cafe in the Liege suburb, in both French and Turkish. In French it said: "Dogs are allowed in, but Zionists are not in any circumstances." But in Turkish, the sign specifically said that Jews were banned, using the word 'Yahudi'.
Israel's ambassador to Germany, Yakov Hadas-Handelsman, said he had seen categorically anti-Semitic statements on banners held at pro-Palestinian protests, similar to ones the CST identified at various UK protests. "They pursue the Jews in the streets of Berlin… as if we were in 1938," Hadas-Handelsman said in an article for the Berliner Zeitung.
Figures from the Jewish Agency for Israel, which promotes Jewish diaspora immigration to Israel, show British immigration to the Jewish state had not risen significantly, only by 4%, which equates to just over 200 British Jews. But the figures from the rest of Europe are startling. From France, 2,830 have emigrated since the beginning of 2014, a rise of 249% from the same time last year. Italy has seen an 88% rise in the number of Jewish people emigrating, and Belgium 38%.
JAFI told HuffPost that they expect the number of immigrants from France to top 5,000 by the end of 2014, marking the first time that a western Jewish community will have 1% of its Jews emigrate to Israel in a single year.
Popular in the Community