Kylie Minogue is celebrating summer in style, by throwing on her best swimsuit and hitting the beach for a photo shoot with GQ Italia.
In her cheeky cover photo for the men's magazine, the Aussie pop princess sizzles in an itsy-bitsy teenie-weenie polka-dot bikini (if only it were yellow…) alongside a poodle, who is biting her bikini bottoms and revealing just a hint of her famous derriere.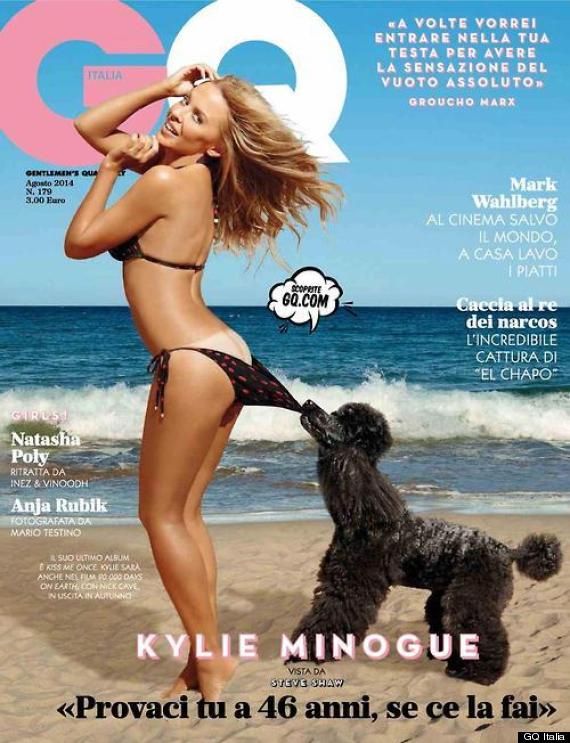 Kylie Minogue on the cover of GQ Italia
Luckily, what would be a fatally embarrassing beach moment for us - we're imagining having to chase around after a mutt with a pair of Primark's best between its teeth - becomes a stunning photo-op for Kylie, and check out that tanline.
The star's photo shoot is a re-creation of a famous advert for Coppertone Sunscreen first used in the 1950s, which later went on to be parodied by stars including Carmen Electra and even comedy actor Jim Carrey. A billboard in Miami showing the original Coppertone advert
We're pleased to see that Kylie is still managing to find time to soak up some sun, as she's currently gearing up to hit the road for her 'Kiss Me Once' tour, which kicks off in Ibiza in August, before hitting venues around the UK a month later.
And while Italian Kylie fans can look forward to the singer's scantily-clad photo-shoot hitting newsstands soon, the last time she was in the country was a decidedly more demure affair, performing her chart-topper 'Can't Get You Out Of My Head' alongside a nun on Italy's version of 'The Voice'.
It was also rumoured over the weekend that the star could soon be swapping her bikini for a pair of 80s-esque dungarees, as she hinted that she might be returning to 'Neighbours' in the future as part of the Australian soap's 30th anniversary celebrations.
They should be so lucky (lucky, lucky, lucky)...
LIKE US ON FACEBOOK | FOLLOW US ON TWITTER