Hamas has said its fighters are "eager for death" and has vowed it will reject any proposed ceasefire with Israel, as the bombardment of Gaza let to another 32 Palestinians being killed overnight by IDF missiles.
Mohammed Deif, a Hamas commander in the militant Izz ad-Din al-Qassam Brigades, was recorded on Hamas's al-Aqsa TV saying "will not take place unless the siege is lifted and the border crossings are all open".
"What the air force and your artillery shelling has failed to accomplish, will not be accomplished by ground forces," said Deif, according to an Al Jazeera translation. "You are sending your soldiers to a definite slaughterhouse, God willing."
"The Zionist entity will not know security unless the Palestinian people live in peace."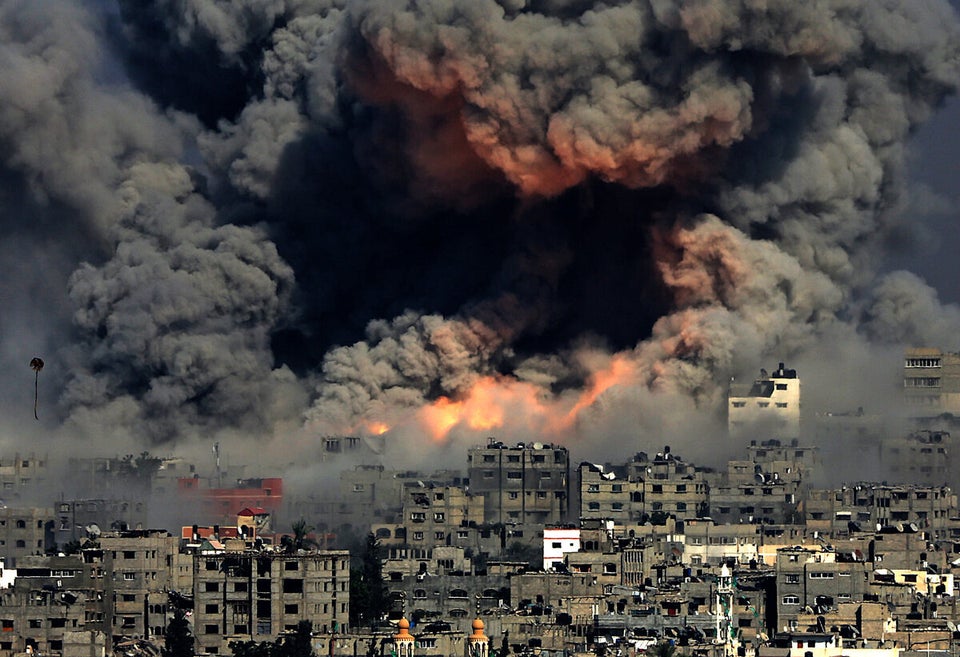 Overnight, Israeli tank shells were reported to have hit a United Nations school in Jebaliya refugee camp which was crowded with thousands of Palestinians sheltering from the fighting, causing 15 deaths and more than 90 injuries.
On Tuesday, the United Nations Relief and Works Agency announced it had found a cache of rockets at another one of its schools in the Gaza Strip .
Chris Gunness, spokesman for UNWRA said in a statement: "We condemn the group or groups who endangered civilians by placing these munitions in our school. This is yet another flagrant violation of the neutrality of our premises.
"We call on all the warring parties to respect the inviolability of UN property."
Israeli tank shells have now knocked out Gaza's only power plant, as well as hitting a Hamas-run TV and radio stations and government buildings. A Palestinian health official says scores of people were killed after shells hit a UN school where hundreds of Gazans had sought safety.
Foreign Secretary Philip Hammond has said neither side is close to a ceasefire, because of a repeated insistence on pre-conditions, despite reports early on Wednesday that Palestinians were mulling an Egyptian proposal. "What we are saying to both sides, what the United Nations are saying to both sides, what the whole international community is saying to both sides, is that the humanitarian necessity must come first," he told Sky News.
"We must stop the bloodshed now by an unconditional ceasefire by both sides.
"We then recognise that there is a need to move immediately to talks about the stack of issues that are underlying this conflict - the way in which Gaza has been blockaded, the conditions in which the people of Gaza are living, the threats to Israel's security from Hamas, rocket attacks and tunnel attacks from Gaza.
"All of these things absolutely do need to be discussed. But first we have got to stop the killing.
"Behind the scenes there are a lot of people doing a lot of work talking to both sides trying to get a practical focus on stopping the bloodshed. And then a rapid move to substantive discussions about future conditions of Gaza.
"The Egyptians have a proposal on the table for a three-stage process. Everybody is behind the Egyptian proposals. The Qataris and the Turks are working very hard to leverage their influence on Hamas. We are talking to all sides in this dispute.
"I think what public opinion, not just in the Arab world but across the entire world, wants to see is an immediate ceasefire. And public opinion will not understand why either side refuses to accept an immediate ceasefire in order to end this suffering."
On Tuesday, Prime Minister David Cameron made it clear that he blames Hamas, the political movement which controls Gaza, for the outbreak of the current rounding of fighting, saying: "Hamas must stop attacking Israel with rocket attacks. That is how this started. It's completely unjustified and they need to stop as part of the ceasefire."