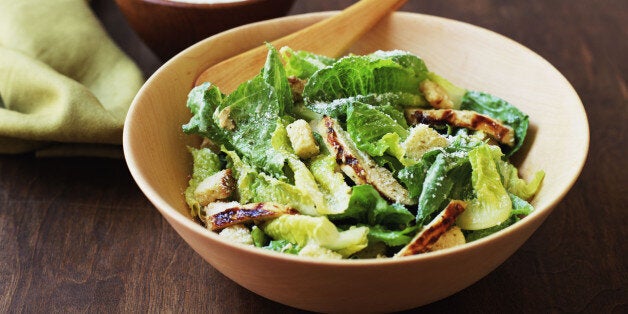 Update:We published this originally with a factually incorrect headline: McDonald's Salads Are Stuffed With More Salt Than A Big Mac - What Are The Other High Street Sinners?. This implies that all McDonald's salads contain more salt than a Big Mac which isn't true - we were referring to one product, the crispy chicken and bacon salad which has more salt than one of their hamburgers, not a Big Mac. We've also added measurements to the article below.
If you picked up a green salad or chicken Caesar this lunchtime in an attempt to be healthier, new research has found that you might as well have tucked into a burger.
Restaurants, cafes and supermarkets have been stuffing their supposedly 'healthy' salads with salt, and it appears even the superfood, detox and health conscious salads have not escaped.
With over 650 ready-to-eat salads examined and over three quarters containing more salt than a packet of crisps, one of the salads that didn't fare so well was McDonald's crispy chicken and bacon salad which contained more salt (1.3g) and calories (380) than one of their hamburgers, which has 1.2g of salt and is 250 calories.
However, McDonald's have responded by saying that if customers want less salt they can order it without the bacon, or order a Grilled Chicken Salad which contains 0.8g of salt and zero grams of fat.
Other salads to look out for when eating out:

Pizza Express' Grand Chicken Caesar Salad, which contains the same amount of salt as two and a half Big Mac's
Wagamama's Lobster Super Salad, containing three quarters of your daily salt limit
Nando's Mediterranean Salad with Chicken Breast, holding two thirds of the maximum recommended
And the supermarket salads didn't fare much better. With over one in 10 falling into the red (high) colour for salt, you really are better off tearing your lettuce and dicing that cucumber at home.
Other supermarket salads to be wary of:

Morrisons Chicken and Bacon Pasta Salad, containing 2.8g of salt
Marks & Spencer Chicken, Bacon and Sweetcorn Pasta Salad, containing 2.58g of salt
Boots Delicious Simply Tuna and Sweetcorn Pasta Salad, containing 2.25g of salt
Sonia Pombo, nutritionist at CASH (Consensus Action on Salt & Health) said, "Say the word 'salad' and you tend to imagine a bowl of healthy stuff nestled amongst some leaves, but that's not accurate.
Whilst salad itself is both healthy and tasty, food manufacturers and restaurants continue to add unnecessary salt to the dish, which not only alters the taste and makes you feel bloated, but more seriously, can lead to high blood pressure - the main cause of strokes and heart attacks."
Graham MacGregor, CASH Chairman and Professor of Cardiovascular Medicine at Queen Mary University added, "It is nonsensical that something as seemingly healthy as a salad should contain an ingredient that is proven to be harmful to your health.
Many salads are deceptively high in salt, and the very large variation of salt content shows that the highest ones can easily be reduced.
The food industry needs to show much greater responsibility for its customers' health."
Top tips for making healthier salad choices:

Keep an eye out for salty ingredients eg cheese, capers and anchovies
Beware of misleading portion sizes on the front of packs eg a third of a packet or one tablespoon, when you would eat the whole thing
Salad dressings are packed with salt. Choose one with less salt (try olive oil and a squeeze of lemon), add less or leave it out completely
Make your own salad. Pack with herbs for extra flavour and try adding unsalted beans, pulses, nuts and seeds to add flavour
Data was collected from Aldi, ASDA, The Co-operative, Lidl, Marks and Spencer, Morrison's, Sainsbury's, Tesco and Waitrose (513 in total) and the leading high street café, restaurant and fast food chains, Abokado, Ask, Benugo, Boots, Burger King, Caffè Nero, Carluccio's, Costa, EAT., Gregg's, Itsu, KFC, Leon, McDonalds, Nandos, Pizza Express, Pod, Pret A Manger, Starbucks, Subway, The Real Greek, Wagamama's, J D Wetherspoon, YO! Sushi, Zizzi (137 in total).