Many of us were inspired by the determination and achievements of the athletes taking part in the 2012 Olympics to better our own lives. But after the glitter of the Games faded, most of us returned to our normal lives.
But for volunteer Ritchie Parrott who worked as a gamesmaker at the London Olympics, his outlook towards weight loss was altered forever.
The 45-year-old, from Harlow in Essex, was one of the volunteers in 2012 and says he had the time of his life. However, the experience was somewhat spoiled by being overweight, getting out of breath and struggling to get around with ease.
He says he felt ashamed because he was surrounded by athletes who were in the peak of their fitness, including Paralympians who'd battled disabilities and adversity, and yet he was wasting his health and happiness.
He became determined to slim down.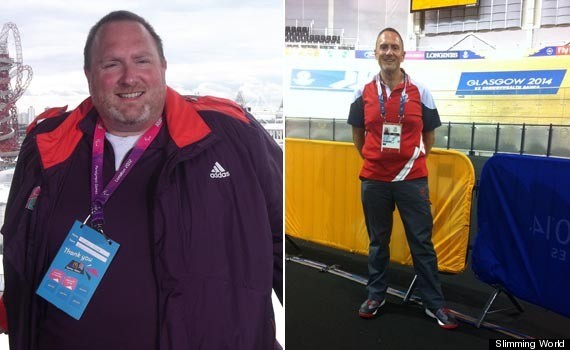 Now he's volunteering again at the Glasgow 2014 Commonwealth Games but is almost unrecognisable after losing an incredible 12st.
"I've been overweight from childhood and remembers being weighed at age 8 or 9 and being the same weight as my teacher."
As he got older he got bigger and bigger. He had to take medication for high blood pressure and found even putting his shoes and socks on could be a chore. He had tried losing weight alone but found it difficult without support and would always regain any weight he lost very quickly.
"I heard about Slimming World from a friend, who cooked me a dish from the plan to try to persuade me to give the plan a try. In November 2012 I went with her to our local group."
Ritchie has fast-tracked his lifestyle which was sedentary to an active one.
"I've ditched my car for walking and riding my bike," he says.
SEE ALSO:

These Seemingly Healthy Foods May Be Giving You A Muffin Top
From being someone who described himself as a 'poster boy for couch potatoes', he has transformed his fitness as he also joined a gym, and enjoys fitness classes and swimming every week as well as exploring the country on long walks such as a 26-mile trek from Stonehenge.
His healthy swaps have paid off - Ritchie has lost 12st and shed 20in from his waist, going from 56in to 36in. His health has improved dramatically – he no longer needs medication for his blood pressure – and he's confident he'll keep the weight off for life.