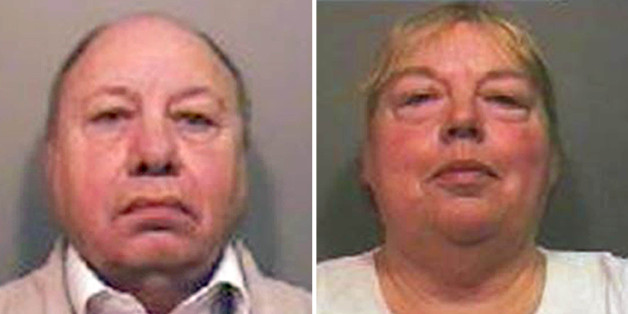 PA
A couple face jail after being found guilty of making bogus bomb detectors in their garden shed which they said could find missing Madeleine McCann. Husband and wife Samuel and Joan Tree made "outlandish claims" that the dud devices could track down explosives and drugs.
But the detectors, known as Alpha 6 and marketed through their company Keygrove, were just plastic boxes with an antenna strapped on to them and bits of torn-up paper inside. They cost just a few pounds to make, but were sold for as much as 2,000 US dollars (£1,171). The Trees are understood to have raked in hundreds of thousands of pounds after making up to 1,500 of the devices in the back garden of their semi-detached home.
One of the boxes was found to have a photograph of missing Madeleine cut into pieces inside. They were both found guilty at the Old Bailey today of making an article for use in a fraud between January 2007 and July 2012.
Mr Tree, 67, bowed his head in the dock as the jury's verdict, by a majority of 11 to one, was delivered. His 62-year-old wife was found guilty by a majority of 10 to two. Judge Richard Marks QC gave the pair bail ahead of sentencing but warned them: "You must understand that all options are open to the court and the strong likelihood given the offence of which you have been found guilty is a custodial sentence." Mr Tree claimed it was possible to find people by putting a photo in the box.
He said he had used the method to look for Madeleine and two other children who vanished in Norfolk some years ago. Prosecutor Sarah Whitehouse QC told the Old Bailey: "They claimed that this Alpha 6 was capable of detecting the presence of drugs and explosives and other substances and objects. They even claimed on one occasion that it is capable of finding particular people, most notably Madeleine McCann.
"These claims were all false. The device was nothing more than a plastic box with an antenna stuck on the top and some pieces of paper inside. It cost a few pounds to make and yet was sold to agents and suppliers for hundreds and sometimes thousands of times that amount. Despite the fact that these plastic boxes plainly could not work, people did, astonishingly, buy them."
They claimed the Alpha 6 could detect substances as small as 15 billionths of a gram at a range of up to 500 metres and was powered by nothing more than static electricity from the user's body. The prosecutor said: "The impression given is one of sophistication and effectiveness based upon scientific principles. The reality was that Samuel and Joan Tree were assembling the devices in the garden of their semi-detached house in Dunstable with plastic boxes made in China and glue and bits of paper."
She said Mr Tree was a "very talented salesman" who believed he had the ability to "pull the wool" over the eyes of his customers. The Trees are the latest in a string of British con artists convicted for making phoney bomb detectors. Gary Bolton, of Redshank Road in Chatham, Kent, was jailed last August for seven years for selling more than 1,000 "useless" detectors which he claimed could track down bombs, drugs, ivory and money.
James McCormick, of Langport in Somerset, was sentenced to 10 years last May for selling fake bomb detectors. Anthony Williamson, of Montgomery Road in Gosport, Hampshire, was also convicted last May of selling phoney gadgets. Detective Constable Joanne Law, who led the investigation for the City of London Police's Overseas Ant-Corruption Unit, said: "Sam and Joan Tree are criminals who put lives at risk when they chose to cash in on detectors manufactured to supposedly locate anything from hidden explosives to missing persons.
"The reality is the devices the husband and wife team created, which were later sold around the world to police and security services were absolutely useless and put both the users and the people they were bought to help and protect in grave danger." She said the convictions were the "concluding act" in a "highly complex, extensive and significant investigation".
Ms Law added: "The demise of these individuals sends a strong warning to anyone else who believes they can make criminal capital abroad while trading off the good name of British business." City of London Police Commander Steve Head, who oversees the Overseas Anti-Corruption Unit, said: "The conviction of Sam and Joan Tree highlights how the City of London Police's Overseas Anti-Corruption Unit is working with our partners to lead the fight against bribery and corruption that is cultivated at home and implemented abroad.
"International corruption undermines local economies and leaves often vulnerable communities exposed, without a voice and struggling to support themselves. We will continue to target those responsible and follow the evidence wherever it takes us around the world to ensure that justice is served."
The couple, of Houghton Road in Dunstable, Bedfordshire, will be sentenced on a date to be fixed next month.
Bolton lost challenges against his conviction and seven-year jail sentence yesterday, but the result of his appeal could not be reported until the jury returned verdicts in the Tree trial. His case was dismissed by three Court of Appeal judges in London. Bolton, now 48, was present in the dock of the court to hear Lord Justice Pitchford, Mr Justice Wilkie and Mr Justice Green reject his claims that he suffered "unfair prejudice" during his trial and that his sentence was too long.
Lord Justice Pitchford said the sentence was "appropriate" for the criminality involved in his case.