With 15 days to go until the start of the new season Manchester United's squad is still ridden with dead wood, they have bought only one midfielder and there is no experienced cover for their three centre-backs.
Louis van Gaal remains determined to bring in Borussia Dortmund and Germany centre-back Mats Hummels to Old Trafford and, ironically, Liverpool could prove to be the catalyst.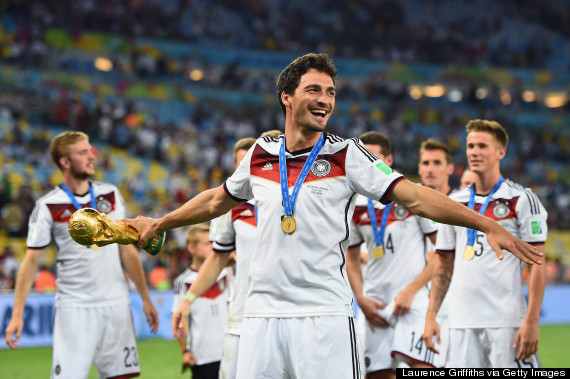 Hummels was one of the standout defenders at the World Cup
Dortmund are interested in loaning Liverpool's Tiago Ilori in the event Hummels departs, and the Portuguese could be further marginalised if Liverpool bring in Sevilla's Alberto Moreno from Sevilla and Javier Manquillo from Atlético Madrid.
Juan Quintero experienced a mixed season at Porto however one World Cup performance is enough to get any supporter excited, let alone Arsenal's giddy horde of online fans. The Gunners have been linked with a £15.8 million move for the Colombian, who scored a neat winner against the Ivory Coast earlier this summer and also played against Japan and Brazil.
The quandary for Arsenal is the 21-year-old has a release clause of £32m, which is just £3m less than they paid for Alexis Sánchez. Arsène Wenger has spent big on proven world-class (a status temporarily revoked from Mesut Özil) players, yet Porto could cash in on a player they signed for €5m last year from Pescara.
The general feeling is Sánchez, who has developed from a winger into a central attacker over the last three years, will play through the middle, easing Arsenal's need for an out-and-out striker. Quintero could bolster Arsenal's array of attackers and, in time, form a lethal forward line with Radamel Falcao, James Rodríguez and Juan Cuadrado in the Colombia national side. Especially if he does this more often...
How about this for two uninspiring targets: West Ham have had talks with sulky Samuel Eto'o and Portugal striker Hugo Almeida. Maybe this is Sam Allardyce's revenge for David Gold favouriting that tweet.
Marouane Fellaini and Javier Hernández are two Manchester United players whose futures seem to lie away from M16 and Napoli and Atlético have confirmed their interest in the players.
The Neapolitans' crackpot owner Aurelio de Laurentiis has admitted Fellaini is just one name on a list of targets while Atléti boss Diego Simeone described Hernández as a "vertical player". "Inception football" will enter the lexicon soon.
The Spanish champions have also been linked with a move for Shinji Kagawa.