Ed Miliband has made his strongest comments on Israel's ongoing, bloody offensive in Gaza yet, saying David Cameron's "silence" on the subject is "inexplicable" and telling the prime minister he must publicly oppose the deaths of "hundreds of innocent Palestinians".
Miliband called the offensive, which has killed 1,650 Palestinians, mainly civilians, and 66 Israelis, all but three of whom were soldiers, since July 8, "wrong and unjustifiable".
Israel launched the attack to prevent Hamas from firing rockets from Gaza into Israel.
As the carnage raged, Cameron told Israeli Prime Minister Benjamin Netanyahu he had his "strong support" for Israel's right to take "proportionate action" to defend itself.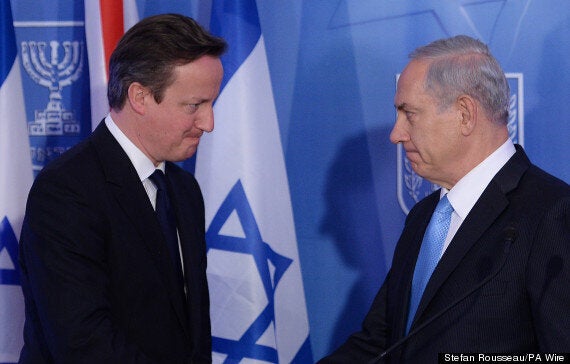 Cameron has given Israeli PM Benjamin Netanyahu his 'strong support' for Israel's right to take 'proportionate action' to defend itself
But Miliband has said he opposes the offensive and his latest comments follow an increasingly tough line he has been taking against Israel over it.
While visiting America last month, he told Huffington Post reporter Ryan Grim: "I don't think it will help win Israel friends. I don't think this will make the situation better. I fear it will make it worse."
Appearing on LBC radio yesterday, he said: "If I was David Cameron... I would be spending my time on doing everything I can to put pressure on both sides to have that ceasefire that is required.
"I think he is in the wrong place on this, because I agree with him about Hamas - Hamas is a terrible and disgusting organisation - but I think he should have said from the outset that this incursion by Israel into Gaza was not going to solve the problem."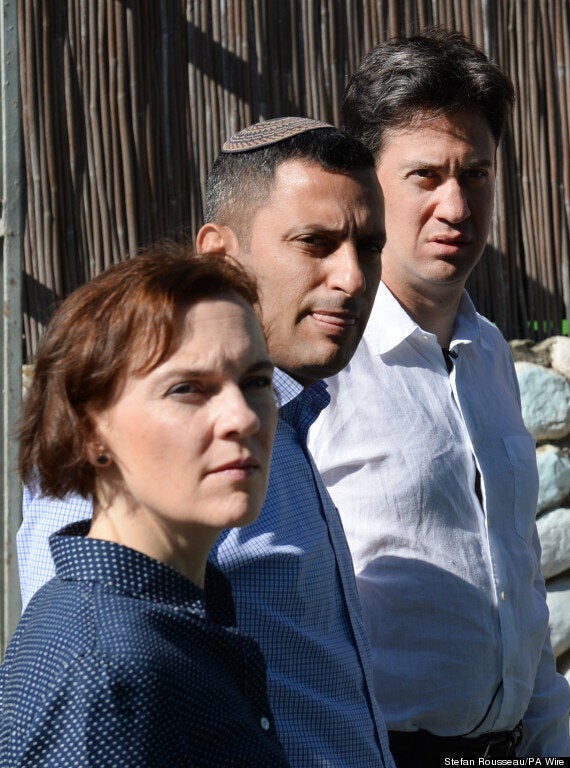 Miliband visited sites targeted by Hamas rockets when he visited Israel in April this year
"Its wholly unjustified rocket attacks on Israeli citizens, as well as building of tunnels for terrorist purposes, show the organisation's murderous intent and practice towards Israel and its citizens."
"But the prime minister is wrong not to have opposed Israel's incursion into Gaza and his silence on the killing of hundreds of innocents Palestinians civilians caused by Israel's military action will be inexplicable to people across Britain and internationally."
Miliband, who toured sites that have been targeted by Hamas rockets during his visit to Israel in April, added: "I am a supporter of Israel and I believe in Israel's right to self-defence.
"But its military actions in the past two weeks have been wrong and unjustifiable.
"The escalation of violence engulfing Gaza has led and is leading to suffering and destruction on an appalling scale and is losing Israel friends in the international community day by day."
He continued: "Israel's present military action will increase the future threats to its security rather than countering them.
"Israelis rightly and justifiably want that security yet their government's present actions instead risk simply growing a new generation bent on revenge."
Writing in The Guardian, Deputy Prime Minister Nick Clegg called for direct talks between Israel and Hamas, which has ruled Gaza since 2007, but is regarded by the Jewish state - as well as the US and EU - as a terrorist organisation.
Clegg said it was "difficult to deny that Israel's military action appears disproportionate and, combined with the Gaza blockade, is resulting in the collective suffering of the Palestinian people."
Hamas too "cannot escape blame" for the situation, as it has shown itself willing to sacrifice its own people by placing fighters and military equipment among the civilian population, he said.
"If Israel wants to secure lasting safety for its people, it must use political will, not military might, to break the cycle of violence," said the Liberal Democrat leader.
"It is time for the Israeli government to talk to the Hamas political leadership in Gaza.
"Israel's refusal to engage with president Mahmoud Abbas's new unity government, because it includes Hamas, must be reversed."