At least 10 people are reported to have been killed in a strike on a UN-run school that housed Palestinian refugees.
The school, in Rafah in the south of the Gaza strip, was hit on Sunday morning in what is believed to be an Israeli strike, though this has not been confirmed.
Gaza health officials have said 30 people have died today so far in Israel's offensive against the strip.
A total of 66 Israelis - including two civilians - and more than 1,650 Palestinians, mainly civilians, have died since the offensive began on July 8.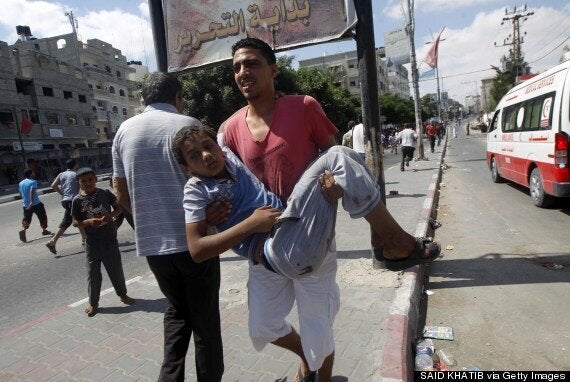 A man carries an injured child after the strike on the UN school
The Israel Defence Force (IDF) has not commented on the school attack.
Story continues beneath slideshow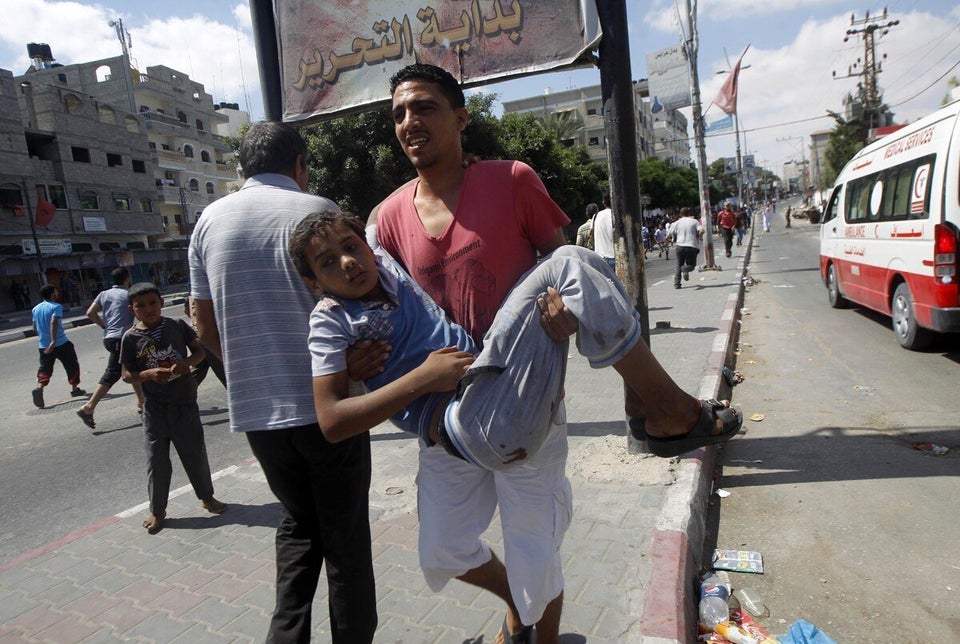 The U.S. Department of State said in an unusually forceful statement:
The United States is appalled by today's disgraceful shelling outside an UNRWA school in Rafah sheltering some 3,000 displaced persons, in which at least ten more Palestinian civilians were tragically killed. The coordinates of the school, like all UN facilities in Gaza, have been repeatedly communicated to the Israeli Defense Forces.

We once again stress that Israel must do more to meet its own standards and avoid civilian casualties. UN facilities, especially those sheltering civilians, must be protected, and must not be used as bases from which to launch attacks.

The suspicion that militants are operating nearby does not justify strikes that put at risk the lives of so many innocent civilians. We call for a full and prompt investigation of this incident as well as the recent shelling of other UNRWA schools.

We continue to underscore that all parties must take all feasible precautions to prevent civilian casualties and protect the civilian population and comply with international humanitarian law.
Hammond said he had received thousands of emails from the British public expressing horror at the scenes in the Palestinian territory.
It comes after a row broke out between Miliband and Downing Street after the Labour leader accused the prime minister of getting it "wrong" on Gaza.