Israel has withdrawn much of its ground forces in Gaza, as it prepared for a limited "humanitarian ceasefire" in parts of the territory to begin later this morning.
The death toll has reached at least 1,650 Palestinians, mainly civilians, and 66 Israelis. The Israel Defence Forces (IDF) have said they are "extremely close" to completing their mission to disrupt Hamas' ability to fire rockets from Gaza at Israel.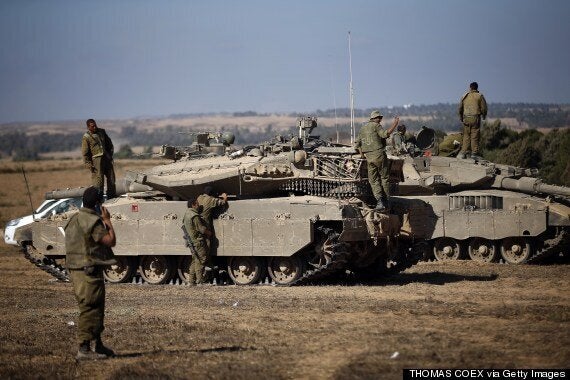 Israel has withdrawn most of its forces from Gaza ahead of today's ceasefire
The ceasefire, which will begin 8am UK time, will not apply to the southern city of Rafah - where the IDF struck a UN school yesterday, killing at least 10 - and the IDF said it would respond if it was attacked.
It is the seventh ceasefire since Israel's offensive began on July 8. Previous ones have collapsed within hours of coming in.
The latest ceasefire comes after the US Government condemned the attack on the UN school that killed sheltering from the offensive, saying it was "appalling" and UN itself called it "criminal".
The school, in Rafah in the south of the Gaza strip, was hit on Sunday morning and was a designated protection location which the IDF were aware of and had the coordinates to.
In the current offensive, UN shelters have been struck seven times.
UNRWA, the agency that assists Palestinian refugees, says Israel was responsible every time.
An Israeli military spokesman said the bulk of IDF soldiers had been pulled out of Gaza after the military concluded it had destroyed most of the tunnel network.
Lt Col Peter Lerner said Israel had detected 30 tunnels, dug along the Gaza/Israel border, for a "synchronised attack" on the Jewish state.
"We've caused substantial damage to this network to an extent where we've basically taken this huge threat and made it minimal," he said.
Israel launched its military operation in Gaza on July 8 in response to weeks of heavy rocket fire, carrying out hundreds of airstrikes across the densely-populated territory.
It then sent in ground forces July 17 in a bid to destroy tunnels Hamas used to fire its rockets.
But the civilian toll has been high. As well as the dead, many thousands have been injured.
After the attack on the UN school, a spokesowman for the US State Department said: "We once again stress that Israel must do more to meet its own standards and avoid civilian casualties.
"UN facilities, especially those sheltering civilians, must be protected, and must not be used as bases from which to launch attacks.
"The suspicion that militants are operating nearby does not justify strikes that put at risk the lives of so many innocent civilians.
"We call for a full and prompt investigation of this incident as well as the recent shelling of other UNRWA schools.
"We continue to underscore that all parties must take all feasible precautions to prevent civilian casualties and protect the civilian population and comply with international humanitarian law."