A sci-fi mad couple renewed their marriage vows Doctor Who style - complete with a Dalek as a special guest.
Paul and Joanne Seymour had a traditional white wedding first time around but decided to celebrate 30 years together with a difference.
They walked down the aisle to the Doctor Who theme in front of 80 guests and then made out that Paul's brother Martin had 'lost' the ring.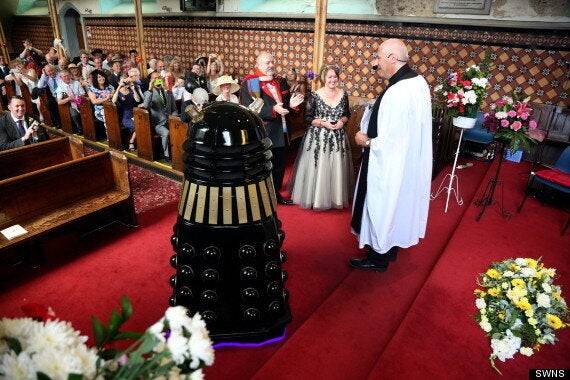 He ran out of the church and was followed by the doors bursting open in a cloud of smoke - and a Dalek entering carrying the ring.
The fearsome model - wearing a bow tie - moved down the aisle and was greeted by vicar Graham Herbert.
He welcomed the Dalek to Earth before it turned and ordered the congregation to 'all show respect to the reverend'.
Paul, 55, dressed Doctor Who-style in a long scarf, fez and carrying a sonic screwdriver, got on one knee and proposed again to Joanne who wore a black lace dress and Tardis hair ribbon.
He told her: "You look just as beautiful today as you did when I first met you and I wanted to ask you just one more time, will you marry me?"
Joanne, 52, a senior midwife, said yes and Rev Herbert told them "You may kiss - else you be exterminated".
Paul said the ceremony at St Paul's Church, Gravesend, Kent last Saturday took place after they offered to raise money for a local charity.
The sci-fi fans also received a special signed photograph from former Doctor Who David Tennant congratulating them on their special day.
Paul, a maternity manager, said: "We didn't really plan to do all of this.
"Originally we just wanted to walk down to aisle to the Doctor Who theme tune but then when Jo bought me the Dalek for my birthday, well, this all happened.
"The Dalek was actually an actor in a costume, I don't think the guests were expecting it.
"It's definitely something to remember.
"The vicar was a bit sceptical about it, particularly the Dalek as it's the epitome of evil but thankfully that all worked out.
"When we spoke about doing it for charity, he was up for it and even let us split the collection plate from the ceremony."
The couple, who share their home in Erith, Kent with three cats, are now auctioning off their hundreds of pieces of Dr Who memorabilia for charity.
They hope to raise £2,000 for Little Buds Fund for special care babies at Darent Valley Hospital where they work.
Paul added: "Joanne and I have always been huge fans of Dr Who, even before we met. I remember watching it as a kid."
Joanne said: "I can remember I used to hide behind the couch when I was a child watching Dr Who. I've always been a fan.
"It was an amazing wedding and I'm glad we decided to do something different."
After the ceremony the couple had a party complete with tardis table decorations, Daleks and Cybermen.
They originally met on a blind date when Joanne was a trainee midwife and Paul was an undertaker.
Rev Herbert said: "They're great science fiction fans and that love of sci-fi is part of their marriage.
"They wanted to raise funds for the Little Buds fund at Darent Valley Hospital and so I was happy to do something for them.
"I've never had a wedding quite like this."
A Darent Valley Hospital spokesman said: "We wish Joanne and Paul the very best of health and happiness as they continue their adventures in space and time together.
"Reaffirming their vows in front of their family, friends and at the point of a Dalek blaster was a delight to see and hear.
"Paul made a wonderful Doctor Who at his wedding but there was no mistaking who is the Master."