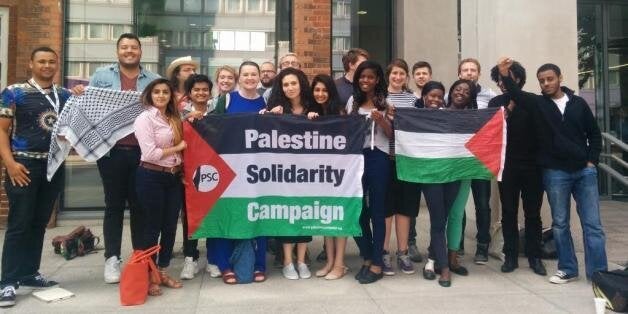 The National Union of Students has passed a motion boycotting companies that support Israel, but has risked alienating its Jewish members.
Representatives for the student union voted at the NUS National Executive Council (NEC) on Monday with 23 votes for, 18 against and one abstention. They also passed motions to invite a Palestinian and an Israeli student to speak at next year's national conference and a motion in favour of a two-state solution in the troubled region.
Boycott, Divestment and Sanctions (BDS) is a movement that aims to pressure Israel to end their occupation of Palestine and give equal rights to Palestinians. Critics argue BDS encourages anti-Semitism and the delegitimisation of Israel.
An NUS spokesperson said: "The motion passed today by our national executive council commits us to ensuring that, as far as is practical, NUS does not employ or work with companies identified as facilitating Israel's military capacity, human rights abuses or illegal settlement activity, and to actively work to cut ties with those that do."
The motion also asks the NUS to encourage its member students' unions across the country to follow their lead and initiate BDS policies themselves.
James Elliott, an NEC member who voted in favour of the motion, told The Huffington Post UK: "I supported it after visiting G4S prisons in Israel, where Palestinian students are tortured and imprisoned in violation of international law. This isn't conflict, but occupation, apartheid, massacres."
The NUS reiterated its commitment to "creating an atmosphere in which robust debates can take place without creating a climate of fear or intimidation."
But the Union of Jewish Students expressed concern over the vote, writing in a statement: "NUS NEC have passed a policy that will only divide student groups, undermine interfaith relations, and suffocate progressive voices for peace on both sides."
Jonathan Hunter, a British-Israeli citizen and Oxford student, told HuffPost the motion effectively tells Israeli students they're not welcome on campus simply because of their nationality. "BDS is not conducive to the peace process - indeed, the movement formally opposes a two-state solution and its aims have even been publicly opposed by the President of the Palestinian Authority."
The NUS added it "reaffirmed our commitment to raising awareness of and combating all forms of racism including but not limited to, Islamophobia and anti-Semitism, that may and have occurred in response to recent events in Israel and Palestine".
Israel pulled its troops out of the Gaza strip on Tuesday amid a 72-hour ceasefire following the deaths of 1,800 Palestinians and 67 Israelis in the recent conflict.
Related