Thomas Vermaelen is on the verge of leaving Arsenal after five years and already the club have a successor lined up: Daniel Agger.
A late-20s, left-footed centre-back with Premier League experience, Agger is not just similar to Vermaelen but he is likely to compete more intensely for a central defensive berth in Arsène Wenger's side.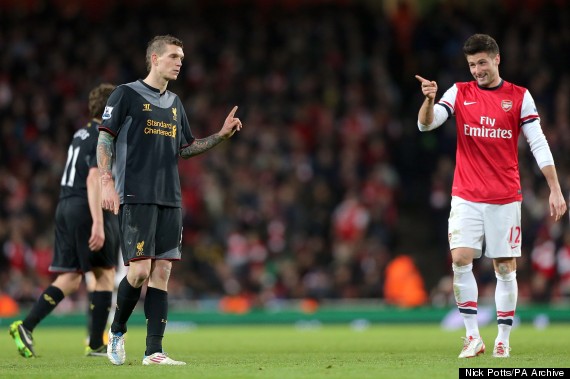 Agger joined Liverpool in 2006 but is out of favour under Brendan Rodgers
Barcelona have reportedly submitted a £10 million bid for Vermaelen - the same fee Arsenal paid Ajax in 2009. That offer is surely too good to refuse for a substitute with less than a year remaining on his contract, even if it does leave Arsenal short in defence initially. Manchester United are also interested in the 28-year-old.
As well as Arturo Vidal, Juan Cuadrado is the other South American United have been linked with on a near-daily basis and the Reds are getting ready to offer Fiorentina £29m for the winger.
Relations between the clubs could be fraught, though, after United loaned Anderson to La Viola. Florence pizzerias would welcome his return.
And as for Vidal, Chile coach Jorge Sampaoli claims Louis van Gaal is concerned about the midfielder's knee problems.
Southampton are hopeful Celtic's disastrous 4-1 Champions League defeat to Legia Warsaw will enable them to sign goalkeeper Fraser Forster for £8m. If Forster is going to credibly challenge Joe Hart in the England set-up he needs to play in the Premier League.
And you have already heard Southampton chairman Ralph Krueger insist Morgan Schneiderlin and Jay Rodriguez will not be sold and he has said it again. Schneiderlin wants to leave whereas Rodriguez is merely concentrating on his rehabilitation from a knee injury.