Gary Barlow and his Take That bandmates are reportedly heading for Hollywood. Don't panic yet though, movie fans - the lads won't be acting. Phew.
Instead, it is thought that the 'Greatest Day' singers are recording a song for a spy movie soundtrack.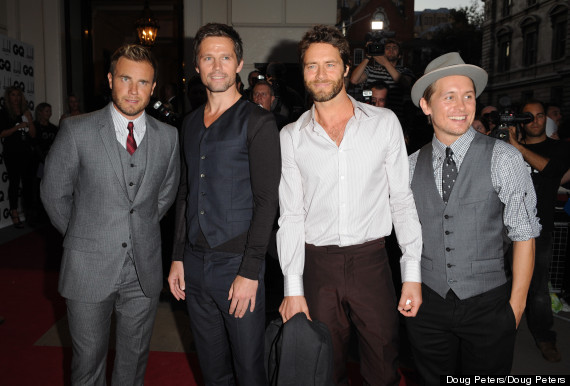 Take That
According to The Sun, Gary, Howard Donald, Jason Orange, and Mark Owen's tune will accompany the upcoming film 'Kingsman: The Secret Service'.
A source tells the paper: "Take That are a really big pull in Hollywood.
"Gary Barlow's scores are well known in the industry and producers want a top British name to feature on the movie."
"The band are also keen to get involved as it will give them decent exposure in the States, a market they've never really cracked," the source continues. "But 2014 so far has been a huge year for Take That, and featuring on a film soundtrack will make it even more exciting."
If everything goes to plan, this will be the third time a Take That song has featured on a movie soundtrack, following 'Rule The World', which was used in the 2007 film 'Stardust' and their song 'Love Love' being featured on 'X Men: First Class'.
It hasn't exactly been an easy year for Gary, Mark and Howard, thought to be facing £20 million bills after paying over £60 million into a tax avoidance scheme.
Gary faced a huge amount of criticism when the news became public and some critics - including Ed Milliband - suggested his OBE should be taken away. He was also the victim a vicious Twitter hack.
LIKE US ON FACEBOOK | FOLLOW US ON TWITTER