Police are investigating rising numbers of female genital mutilation (FGM) cases without charging people with offences, according to new figures.
Dozens of suspected FGM offences have been recorded in the UK over the last three years but only a handful of arrests have been made, but no-one has ever been prosecuted for the crime.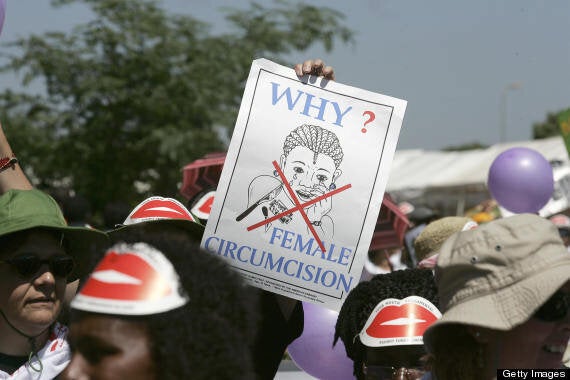 Members of African Gay and Lesbian communities demonstrate against FGM in Nairobi
In a Freedom of Information (FOI) response to the Press Association, West Midlands Police - one of the UK's largest police forces - revealed 49 FGM cases were investigated between January and June. The number is more than the total number of cases the force recorded last year.
The force revealed 41 cases were investigated in 2013, compared with 25 in 2012 and eight in 2011. Two people were arrested in 2012 but no one was charged between 2011 to June this year.
Two men facing the UK's first prosecution over FGM are due to go on trial next year, but there have been few other arrests for the practice, which the NSPCC has condemned as "a hidden and complex cultural form of child abuse."
The children's charity said the lack of convictions highlighted the "tough challenge" facing police, while one FGM survivor said the practice remained "secretive" among communities carrying it out.
The figures come after the Government unveiled plans to prosecute parents who fail to prevent their daughter being subjected to FGM.
The figures below were also revealed in the FOI request response:
Investigated 16 suspected FGM offences last year, up from four in 2012 and six in 2011
Also investigated six cases between January and June this year, but refused to provide further information
Has investigated 14 child welfare concerns involving 16 girls in 2013/14
In each case no criminality was found
Investigated six FGM cases between January and June this year, a further 10 cases in 2013 and one case in 2012
There were no arrests or charges
Responded to 12 "incidents of intelligence-led FGM-related reports"
One arrest was made but no one was charged
Hampshire, Thames Valley, Suffolk, Lancashire and North Wales police
Investigated suspected FGM offences in the last three years
But no-one was arrested or charged
Said it had recorded one FGM-related crime since 2011
Refused to provide information on whether anyone had been arrested or charged
Many forces said they had not recorded any FGM cases but pointed out that other agencies may have been involved in cases. Scotland Yard did not respond with the number of cases it had investigated.
Meanwhile, some forces refused to reveal whether they had investigated cases of FGM over concerns for women and girls subjected to the procedure.
There are an estimated 170,000 women and girls in the UK who have undergone FGM, according to a hard-hitting Commons Home Affairs Committee report last month.
In two London boroughs, almost one in 10 girls are born to mothers who have suffered the procedure and are therefore themselves at risk, according to the report.