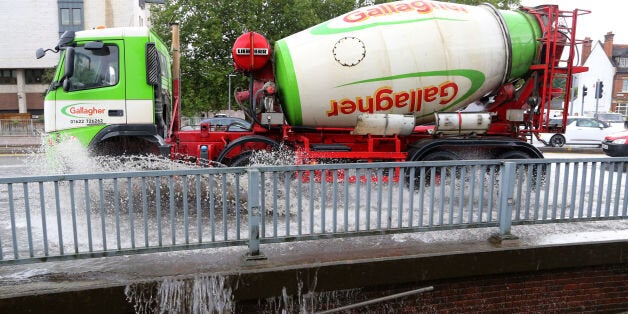 Britain is bracing itself for high winds and more flash floods as Hurricane Bertha hits the country bringing lashing rain in its wake.
The Red Cross has mobilised hundreds of volunteers who are on standby amid fears people will need to be evacuated from their homes.
The deluge was set to hit Cornwall this evening and quickly sweep across the rest of Britain. It follows torrential downpours on Friday which caused flooding across eastern England and saw more than 1,400 homes hit by power cuts.
Britons were warned to batten down the hatches as gale-force winds are predicted to tear along coastal areas, while 50mph gusts will batter the rest of the country.
Forecasters said the bad weather will plunge the country into autumnal conditions in the middle of summer.
Alister McHardy, from the Met Office, said much of Britain will be hit by up to two inches of rain overnight.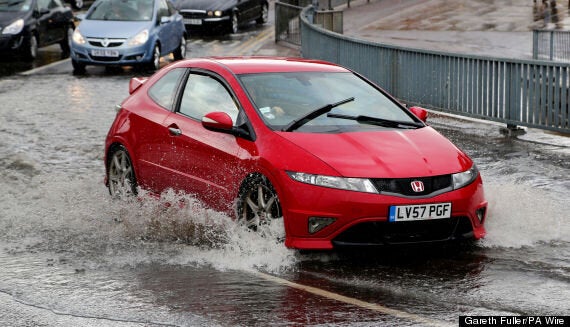 Cars pass through a flash flood following a heavy rain shower in Maidstone, Kent. | Gareth Fuller/PA Wire
He said: "Anywhere in England and Wales could get two inches - even the far south east of England could get a good dollop of rain.
"We are going to see coastal gales in the south coast of England of around 50-60mph. Even inland there is a risk of gales in places. Generally the winds will be around 40-45mph. All places are going to see these strong winds - anywhere in England and Wales will see this.
"The rain is going to be heavy, but not torrential. But there is going to be a risk of surface flooding. It is definitely going to feel cooler and fresher, and the winds are going to be quite strong.
"Britons should brace themselves and be aware that the rainfall could bring some flooding in places.
"It is a quick dose of autumn in the summer."
The Met Office has imposed yellow weather warnings telling people to "be aware" for rainfall for England, Wales and Scotland.
Hurricane Bertha has already torn through the Caribbean, with 90mph winds leaving thousands of homes without power.
Its aftermath, while not as potent, could still wreak havoc on parts of the UK.
Mr McHardy said: "Bertha has come across the Atlantic quite quickly. It is the remnants of that we are seeing over the next few days. Former hurricanes quite often hit Britain during the autumn, but for it to happen in August is quite unusual."
Further bad weather is expected on Monday and Tuesday, as showers and 45mph winds are predicted to hit Britain.
Large swathes of the east of England have already taken a battering from heavy rain and flooding on Friday.
Norfolk, Cambridgeshire and Lincolnshire were the worst affected, with residents having to be evacuated from their homes and fire crews battling through the night to pump out the rising tide of water that had hit.
And marooned drivers taken by surprise at the rising water had to abandon their cars in flood-hit roads.
Head of UK emergency planning and response for the Red Cross, Simon Lewis, said: "We have hundreds of volunteers stationed across the UK and poised to help people who may be affected by possible flash flooding.
"Experience tells us that extreme weather could also lead to evacuations of homes and power cuts and we are ready to respond.
"We would urge people to keep a close eye on the forecast and think about preparing some basic emergency supplies in case the weather does take a turn for the worse."
Environment Agency flood risk manager Craig Woolhouse warned that powerful winds could conjure up large waves which posed a flood risk to parts of the coast.
He said: "On Sunday and Monday a combination of high spring tides and strong westerly winds bring a risk of large waves and spray and possible flooding to the South West coast of England and along the Severn Estuary.
"If you're travelling to or from holiday then check your flood risk before setting off and don't drive through flood waters."
He added: "The unseasonal low pressure system looks set to sweep up from the South West, through the Midlands and, towards the Humber from the early hours of Sunday morning.
"The Environment Agency is continuing to monitor the situation closely along with the Met Office and local authorities. Our teams are out on the ground, ensuring coastal flood defences are ready, rivers can flow freely and clearing trash screens."