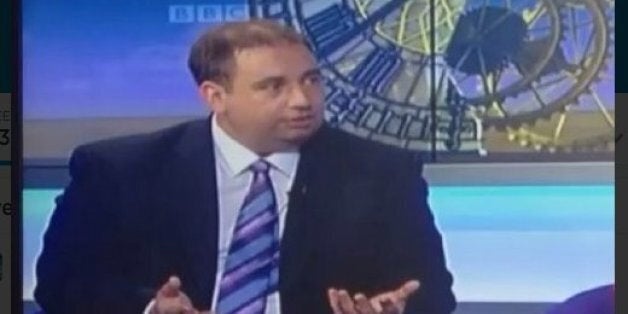 A Ukip MEP is embroiled in a row after advising prospective party candidates to emulate Hitler's speaking style.
Bill Etheridge is said to have described the Nazi dictator as a "magnetic and forceful" performer who "achieved a great deal".
The remarks were made as the West Midlands MEP delivered a seminar on public speaking at the Young Independence Conference in Birmingham.
According to the Mail on Sunday, Mr Etheridge told the class: 'Look back to the most magnetic and forceful public speaker possibly in history.
"When Hitler gave speeches, and many of the famous ones were at rallies, at the start he walks, back and forth, looked at people - there was a silence, he waited minutes just looking out at people, fixing them with his gaze.
"They were looking back and he would do it for a while. And then they were so desperate for him to start, when he started speaking they were hanging on his every word."
He added: 'I'm not saying direct copy - pick up little moments."
Labour MP Mike Gapes told the MoS: "I thought nothing could surprise me any more, but this just goes to show that Farage has completely failed to clean up his party.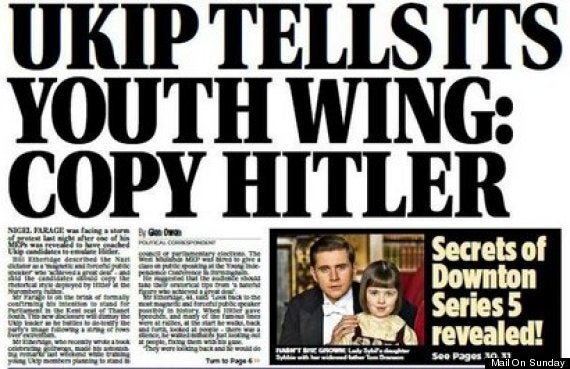 The front page of Today's Mail On Sunday
"One of his MEPs training young candidates to speak like Hitler? Simply unbelievable."
But a Ukip spokesman said: "Bill Etheridge gave a seminar on public speaking and highlighted great speakers of the past, like Churchill, Blair, Martin Luther King and Hitler as people whose style, not content could be studied.
"It is no surprise that two national newspapers have covered this conference, the Guardian and the Mail on Sunday, one gave it fair hearing, the other as a Tory paper is terrified by the rise of Ukip and apparently will stoop to nothing to attack the party. We are disappointed, but unsurprised.
"During a period of respectful and pensive commemoration of those who gave their lives in war, the Tory Mail on Sunday's tasteless and desperate front page attack is truly disgusting."