The British aid effort in Iraq is to be stepped up to ease the plight of thousands of people trapped on a mountain as they flee advancing militants. The move follows an aborted attempt to deliver aid to the Yazidis on Mount Sinjar, which was called off when the RAF aircrew decided that the supplies could have injured the desperate people below.
Foreign Secretary Philip Hammond, who chaired a meeting of the Government's emergency Cobra committee to discuss the crisis, said the situation was "challenging" and warned of a "potential humanitarian disaster on a huge scale". Downing Street also confirmed the RAF will send "a small number" of Tornado jets to the region so they can be used, if required, to improve the UK's surveillance capability in the region to help the humanitarian effort.
The UK will also look at how it can play a role in getting equipment to Kurdish forces as they are better able to counter Islamic State (IS), formerly known as the Islamic State of Iraq and the Levant (Isis or Isil), Number 10 added. Speaking after the Cobra committee meeting, Mr Hammond said: "We are providing humanitarian assistance.
"This is not simple - getting it in is very challenging, getting people off that mountain is even more challenging - and the meeting we had this morning in Cobra looked at all the options available to us to step up our humanitarian support, including obtaining better situational awareness of what's going on on the mountain, both to facilitate the air drops and to start planning how we are going to get people out."
The next air drop of humanitarian aid in northern Iraq is likely to be carried out within the next 24 hours after RAF crews were forced to abandon their attempt to deliver supplies overnight. The UK has already made one successful aid flight, dropping supplies including water and solar lanterns, to Mount Sinjar, where members of the of Yazidi minority are trapped in extreme conditions after fleeing the advance of the IS forces.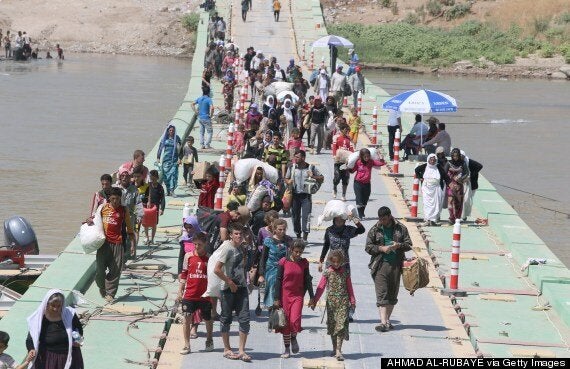 Displaced Yazidi cross the Fishkhabur bridge on the Iraqi-Syrian border
Mr Hammond rejected calls for Parliament to be recalled to discuss the crisis and said there were no plans for British military involvement: "We don't envisage a combat role at the present time." David Cameron, who is on holiday in Portugal, has been urged to call MPs back from their summer break to discuss the crisis and he has also faced pressure - including from former head of the army Lord Dannatt - to consider a military intervention.
But Mr Hammond dismissed the potential for a recall of Parliament, saying: "I don't think that's necessary at this time. We are talking about a humanitarian intervention. We have a very clear convention about consulting Parliament before British forces are committed into any kind of combat role.
"We are not talking about that here, we are simply talking about a humanitarian action, stepping up what we are doing in order to support this community trapped on the mountain." He added: "We don't envisage a combat role at the present time. We are talking at the moment about a humanitarian operation and using our assets to gain more awareness of what's going on on this mountain - where people are, how we can get supplies into them and how we can help to get them out."
The British involvement has been limited to air drops and providing logistical support - surveillance and refuelling - for US aid flights.
Downing Street said the Prime Minister was "very much engaged" with the situation despite being abroad and a recall of Parliament was "not on the cards".
Bayan Sami Rahman, the Kurdistan regional government's high representative to the UK, raised concerns that its forces were "outgunned" by IS and called for them to be armed by the UK and other Western nations. "We need equipment, we need weaponry, we need sharing of intelligence and we need the air strikes," she told BBC Radio 4's Today. Asked about supplying arms, a No 10 spokeswoman said ministers would look at "what options there might be" to enable Iraqi and Kurdish forces to fight IS.
She said: "We do think it's important that the Iraqi forces, including the Kurdish forces, are able to respond to IS and to tackle this crisis in the country. We will look at what options there are that might enable them to do that. But there have not been substantive discussions on that yet and there are certainly no decisions."
Tory MPs Nick de Bois and David Burrowes have written to the Prime Minister urging the recall of Parliament to discuss the crises in Iraq and Gaza, while fellow Conservative Conor Burns said he wanted to send in special forces to assist Christians in Iraq. Former defence minister Andrew Robathan said it was "no good just sending aid" as he insisted the "real solution" is to stop IS fighters and the Government should consider joining the US in airstrikes.
Lord Dannatt warned the risk of a genocide unfolding meant further help should be considered, arguing that the UK shared "some culpability" for the breakdown in Iraqi society. There is "compelling" evidence that IS is in possession of modern weaponry that had been gifted to the Iraqi army but abandoned in the face of the rapid extremist advance, he said.
"The Peshmerga (armed Kurdish fighters) are willing to stand. They need to be supported with some military hardware, with equipment, possible some training - probably out of the country," he told the BBC Radio 4 Today programme. But also the air strikes need to be stepped up and they need to be well-targeted. It may need people on the ground to make sure the air strikes are accurate and therefore effective."
Asked if that meant UK forces, he said: "The United States in the lead and us in support. We all bear some responsibility. The breakdown in society in Iraq post-2003, we have some culpability for that and so it is difficult for us to say 'not our problem'."
While re-engaging militarily in Iraq could be politically explosive and publicly unpopular, it might still be the right thing to do "in extreme circumstances", he suggested. "We have got to look carefully just to ensure that there isn't a genocide about to be perpetrated which we know about and while we are watching. If we watch and do nothing and wring our hands later and say, once again, 'Oof, we shouldn't have let that happen', then I think we have all let ourselves down."
Urging strong action to help the Kurds, London Mayor Boris Johnson said "it would be an utter tragedy if we did not do everything in our power to give succour and relief to those who are now facing massacre and persecution, and to help repel the maniacs from one of the few bright spots in the Middle East. "Yes, we have got it wrong before; and yes, we cannot do everything," he wrote in his column in the Daily Telegraph. "But that doesn't mean we should collapse into passivity and quietism in the face of manifest evil. These people need our help."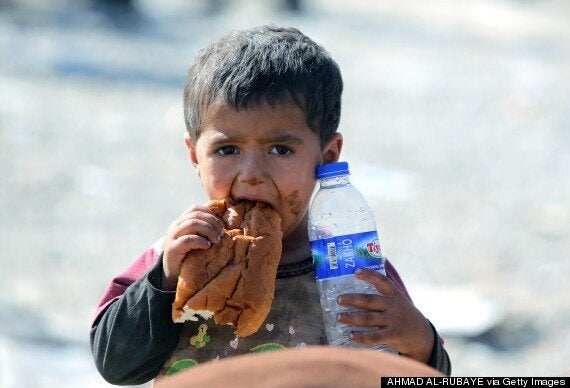 A Yazidi child receives aid on the border
Mr Robathan said the UK should "use anything we can - at minimal risk to ourselves" to help those under attack from the Islamic extremists. He told BBC Radio 4's World at One: "There's many ways one can use military action. I think, for instance, air strikes, or indeed the use of (drones), from a suitable launch site, are ways that it can be done - dare one say it - surgically without putting troops on the ground.
"I think we had our fingers pretty badly burnt in Iraq, as of course did the Americans. There's no appetite, of course, to have proper troops on the ground; however, the idea of a few observers perhaps directing our operations is a slightly different matter." Mr Robathan said he believed there was an appetite to help the people of Iraq and Kurdistan who are under attack from a "vicious force".
There were further developments in the political crisis in Iraq, as the country's new president snubbed the powerful incumbent prime minister Nouri al-Maliki and nominated the deputy parliament speaker Haider al-Ibadi to form the new government. President Fouad Massoum's decision could trigger further infighting in the country, which is already struggling to cope with the IS insurgency.
A No 10 spokeswoman said work would continue to develop a better picture of the number of people on Mount Sinjar and their exact locations. Speaking about the Cobra meeting, she said: "As part of that work, we have decided to pre-position a small number of Tornados in the region so that they could, if required, use their excellent surveillance capability to gather better situational awareness to help with humanitarian effort.
"This would be similar to the role the Tornado played in the UK earlier this year, gathering information on the areas affected by the severe floods. Establishing an inclusive government in Iraq that can unite all Iraqi communities against the threat posed by Isil remains vitally important. The Foreign Secretary called President Massoum yesterday evening to encourage the formation of an inclusive government as swiftly as possible and to encourage greater co-operation between Iraqi and Kurdish forces. And we welcome this afternoon's news that President Massoum has nominated Dr Haider Al-Abadi.
"At Cobr, it was agreed that we should look at how the UK could play a role, alongside others, in getting equipment to Kurdish forces so they are better able to counter Isil forces and critically so that they can continue to protect the large number of displaced persons who are seeking safety in Iraqi Kurdistan."
Popular in the Community