David Cameron has been urged to recall MPs to parliament to discuss whether the UK should send military assistance to the thousands of Iraqi Yazidi people trapped in the northern mountains, as it emerged the US is considering airlifting the besieged community.
But Downing Street continued to resist calls from Lord Dannatt and MPs to recall Parliament to debate the unfolding crisis, insisting the focus remains on humanitarian not military intervention. Lord Dannatt had argued that military personnel may have to be deployed to Iraq to help target air strikes against Islamic State extremists properly.
Britain has already airdropped aid packages to those who are trapped on the mountain. MP Conor Burns said the Government's response so far, of ruling out military intervention and airdropping supplies, was "not strong enough" to help the Yazidi Zoroastrian sect, or the minority Iraqi Christians who are also fleeing death threats from the Islamic State, formerly ISIS.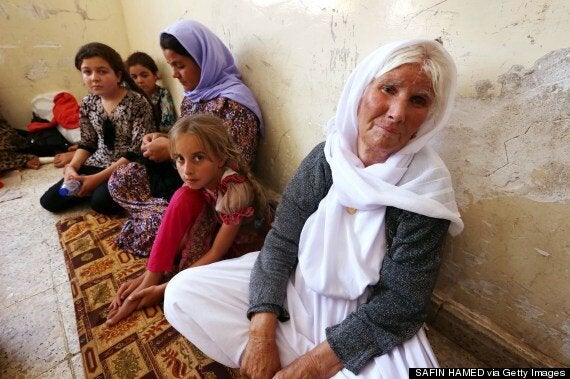 An Iraqi Yazidi family that fled the violence in the northern Iraqi town of Sinjar, sit at at a school where they are taking shelter in the Kurdish city of Dohuk
"I feel very strongly about this," the Bournemouth West MP said. "I have been following this really closely for the last couple of weeks but having seen some of the images earlier I was quite seriously overcome.
"These are brother and sister Christians, and this is happening to them in no small part because of our record in Iraq. I feel very strongly that the Government's response is not hard enough or strong enough.
"These people are being beheaded by people from IS, and our only response is to drop some food or water on them. I think the US and UK should be involved in air strikes. I am not by any means advocating a ground war but I think we should put our special forces in there.
"I think we should be answering positively requests from the Kurds to arm them. I think we should be looking at asylum."
Burns said he did not know whether the Commons would support military action, but it was "worth trying" - adding that some Conservative colleagues who opposed intervention in Syria last summer took a different position this time. "Some of this was created by us in the first place, and I do not think it is right just to say we cannot do this or public opinion doesn't support it," he said. "I think the Syria thing and this are very different. If Parliament decides we do not want to have anything to do with that, then let them say so."
The former head of the army, Lord Dannatt, also backed a recall, insisting Britain was "watching in horror" as atrocities were committed.
Lord Dannatt said the risk of a genocide unfolding meant further help should be considered, arguing that the UK shared "some culpability" for the breakdown in Iraqi society.
There was "compelling" evidence that IS was in possession of modern weaponry that had been gifted to the Iraqi army but abandoned in the face of the rapid extremist advance, he said.
"The Peshmurga (armed Kurdish fighters) are willing to stand. They need to be supported with some military hardware, with equipment, possible some training - probably out of the country," he told BBC Radio 4's Today programme.
"But also the air strikes need to be stepped up and they need to be well-targeted. It may need people on the ground to make sure the airstrikes are accurate and therefore effective."
Asked if that meant UK forces, he said: "The United States in the lead and us in support. We all bear some responsibility. "The breakdown in society in Iraq post-2003, we have some culpability for that and so it is difficult for us to say 'Not our problem'."
While re-engaging militarily in Iraq could be politically explosive and publicly unpopular, it might still be the right thing to do "in extreme circumstances", he suggested. "We have got to look carefully just to ensure that there isn't a genocide about to be perpetrated which we know about and while we are watching. If we watch and do nothing and wring our hands later and say, once again, 'Oof, we shouldn't have let that happen', then I think we have all let ourselves down."
Tory former minister Alistair Burt told BBC Radio 4's The Westminster Hour that there "may be a need to arm the Kurdish fighters rather more intensively".
"I don't think there's any need to recall Parliament unless the Prime Minister wants to move on from humanitarian aid," he said. "If he does and wants support, I think Parliament should give it to him. I think we should be in no doubt whose side we're on. We should support the Kurdish regional government and the Iraqis and any force that is prepared to deal with IS and the threat they pose to the stability in the region."
Yesterday, Downing Street announced that more UK advisers were being sent to the under-threat city of Irbil to help deal with the developing crisis.
After a meeting yesterday of the Government's Cobra emergency committee attended by officials from across Whitehall and agencies, a Number 10 spokesman said: "The humanitarian situation remains deeply worrying and consequently this continues to be our priority. Hundreds of thousands of people are displaced across the region and in need of aid supplies. And thousands are still trapped on Mount Sinjar, although it is understood that some may have escaped off the mountain to the north.
"The first UK aid drop took place over Mount Sinjar last night, with the RAF delivering bundles that included 1,200 reusable water containers providing 6,000 litres in total and 240 solar lanterns that can also be used to recharge mobile phones. We are working to step up these deliveries in the coming days. Meanwhile, we continue to engage with the US, Kurds, Turks and other international partners on how to get those trapped on the mountain to safety. And we are planning to increase the number of humanitarian advisers in Irbil to provide better links to the situation on the ground.
"We continue to urge Iraqi political leaders to appoint a prime minister who can lead an inclusive government. This is vital to ensure that Iraqis themselves are able to co-ordinate the response across the country against ISIS, uniting all Iraqi communities against these evil terrorists."
The Government announced an £8 million emergency package last week, £3 million of which will go to charities and NGOs already on the ground and helping displaced people in northern Iraq, and £2.5 million to the International Committee of the Red Cross.
Cameron and US president Barack Obama discussed the airdrops in a phone call on Saturday, but admitted that a "long term solution" would be needed to quell the IS advance.
More than half of the 40,000 people on Mount Sinjar are now believed to have escaped with the assistance of Kurdish fighters, the Guardian reported. But there are still thousands, desperately low on food and water, who are on the 60-mile-long ridge, where they are besieged by ISIS jihadists who have sworn to kill them.
"We're reviewing options for removing the remaining civilians off the mountain," deputy US national security adviser Ben Rhodes told Reuters.
"Kurdish forces are helping, and we're talking to them (the UN) and other international partners about how to bring them to a safe space."
Speaking to Reuters, al-Sudani said: "We have striking evidence obtained from Yazidis fleeing Sinjar and some who escaped death, and also crime scene images that show indisputably that the gangs of the Islamic State have executed at least 500 Yazidis after seizing Sinjar," he said, adding: "Some of the victims, including women and children were buried alive in scattered mass graves in and around Sinjar."
"The terrorist Islamic State has also taken at least 300 Yazidi women as slaves and locked some of them inside a police station in Sinjar and transferred others to the town of Tal Afar. We are afraid they will take them outside the country. In some of the images we have obtained there are lines of dead Yazidis who have been shot in the head while the Islamic State fighters cheer and wave their weapons over the corpses," he added. "This is a vicious atrocity."
Bayan Sami Rahman, the Kurdistan regional government's High Representative to the UK, appealed for its forces to be armed by the UK and other Western nations.
As Kurdish forces reported that they had retaken control of two towns near the capital, Irbil, she said outside troops on the ground were not required "at this stage".
"But beyond that we do need military assistance. We need equipment, we need weaponry, we need sharing of intelligence and we need the air strikes," she told the BBC Radio 4 Today programme.
"We have a very committed and courageous Peshmurga defending Kurdistan and fighting Isis, unlike the Iraqi army which melted away.
"What we don't have is the weaponry; we can't match what Isis have managed to capture from the Iraqi army.
"What we are worried about is being outgunned."
She said that while Kurds were "grateful to Britain for stepping up and taking the lead" on emergency humanitarian aid, more would need to be done on that front.
A million refugees had arrived into an area the size of Scotland almost overnight, she pointed out in an appeal for longer-term help to be promised.
She said she had heard "absolutely horrific" first-hand tales of the situation on the ground from friends and family.
"We Kurds have been through these terrible situations many times in our history. Under Saddam we had genocide and we thought those dark days were over."
Popular in the Community