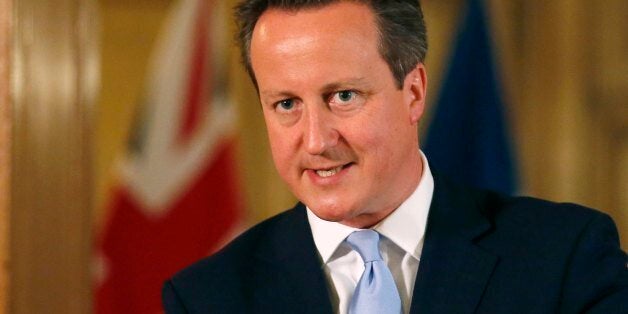 Downing Street has rebuffed demands from Conservative MPs that parliament be recalled to give backbenchers a chance to quiz David Cameron about fresh British involvement in Iraq.
The UK has started dropping aid, including water and solar lanterns, to Mount Sinjar, where thousands of Yazidis are trapped in extreme conditions after fleeing the advance of Islamic State (IS) forces.
There are growing calls from the Tory benches for the government to go further and for Cameron to call the Commons back from its summer recess to debate the crisis.
Bournemouth West MP Conor Burns told The Huffington Post that the Foreign Office currently had "no policy" and the prime minister needed to hear MPs concerns.
"We are witnessing the slaughter of the innocent. Dropping food and water from the air while their Islmofascist killers approach is no policy. We need to arm the Kurdish regional government, do air strikes and put massive pressure on our allies in the region to sort out their back yard," he said.
However the prime minister's spokesperson said today that the government was focused on delivering humanitarian aid and "recall is not on the cards". Downing Street also said there were no plans for Cameron to return to Britain from Portugal, where he is on holiday with his family. "At this stage he is very much engaged from there," she said. "That system is working."
Conservatives Nick de Bois and David Burrowes have also written to Cameron demanding that parliament be recalled. What we are witnessing in Iraq is truly shocking and requires a co-ordinated international response," they said.
"The horrific persecution of minority groups in the region impose both a moral obligation and a duty to our constituents to reconvene so that the escalating crisis can be properly debated with a view to the government being able to seek guidance from and support of the House for policies aimed at ending the killing. It is vital that the House of Commons debate an appropriate response to this emergency."
The demand also has cross-party support. Labour MP Mike Gapes, a former chairman of the foreign affairs committee, said the government needed to stop "prevaricating" and give greater support to the Kurds in northern Iraq.
"The prime minister may feel unable to act now following his defeat and mishandling of the Syria debate last August. He should get over it and urgently recall parliament. I hope we can then with opposition support achieve a massive vote for UK military intervention alongside our US and Nato partners to defend and protect our democratic and secular Kurdish friends and to stop the genocide of Christians, Yezidis and other minorities by ISIL in Iraq and Syria," he said.
However Conservative Richard Ottaway, who replaced Gapes as chairman, told HuffPost that recall was not needed. "Parliament isn't the government. Ministers have the powers they need and I just hope they get on with supplying the humanitarian aid and arming the Kurds," he said.
The next air drop of humanitarian aid in northern Iraq is likely to be carried out within the next 24 hours after RAF crews were forced to abort the latest attempt amid fears of danger to the people below.