After his two young sons wanted to play violent video games, a father made the decision to take them to see the real devastation caused by war in a bid to put them off guns.
Carl-Magnus Helgegren told The Huffington Post UK that he wanted show his boys Leo, 11 and Frank, 10 about the reality of war, hoping to make them think before playing war games like the Call Of Duty franchise.
Helgegren, a Swedish journalist and university teacher who spent some time in the Middle East as a reporter, was reminded of his own experiences on the frontline when his children were discussing the latest shooter game, he said, in an interview first published by The Local.
"When I went out to the Middle East I thought I had a pretty good idea of what the war was. But I had absolutely no idea, I was naive. It was only when I was being shot at with gas canisters that I realised how much I had misunderstood."
Helgegren, who said he has no issue with violent video games - rather that parents bare a responsibility to educate their children - said he did not want his boys to "mindlessly" play the video games without understanding the truth behind the conflict portrayed in million-dollar CGI.
The father made a bet with his two sons - they would visit a country ravaged by the affects of war with him and upon their return, having engaged with those impacted, be free to make the decision to play any video game, if they still wanted to.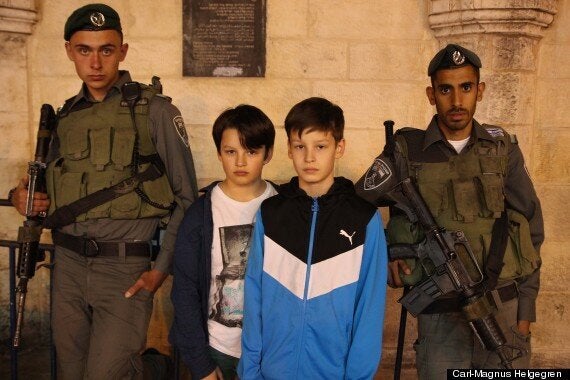 Carl-Magnus Helgegren went on the trip with his son Leo, 11 and Frank, 10
"I wanted them to understand that war doesn't stop just because the guns have silenced - war affects society for generations. There are entire families grieving behind every casualty, every statistic - these are the numbers you never see in games because it's boring."
There, they went to the Shuafat refugee camp in east Jerusalem. They visited a clinic "where kids were being stitched up every single day because they had been hit in the head with the butt of a rifle," Helgegren told HuffPost.
And how did his young sons respond? "At first just with silence," he said. "We took a lot of time to talk to them," Helgegren added, explaining that he and his ex-wife united to travel together in order to support their children.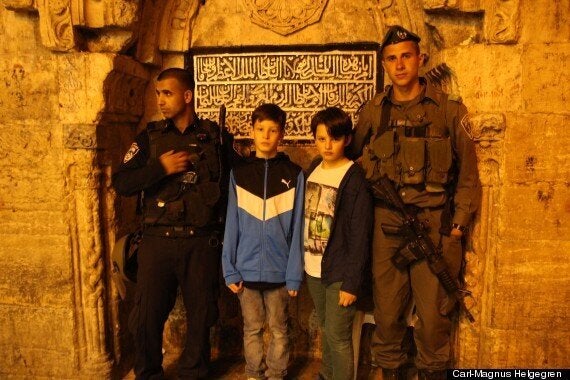 Frank And Leo with Israeli soldiers during the April trip
When the family returned to Sweden, Frank and Leo decided not to play Call of Duty after all. They told their dad "it didn't feel good".
The boys continued to ask questions and "it grew and grew," their father said. They also told their dad they would like to go back one day.
But since news of the family trip has spread, Helgegren faced a barrage of online abuse from outraged parents.
"I have received messages saying I'm a terrible parent, that I am a pompous bastard" Helgeren said.
But he defended his decision to take his children to the war ravaged countries, saying that those in more privileged countries have a responsibility not to be apathetic to such atrocities.
"We have a responsibility to be aware. To be able to look at ourselves in the mirror and say 'at least I'm trying to make a difference.'"
Helgegren added that he has no regrets about his family's trip and that he does not understand how some parents are afraid of allowing their children to see the reality of war - but let them play violent war-themed video games.
"Parents have a responsibility to teach their children the truth," he said.
Related