This is the incredible moment a TV reporter casts aside his professional veneer to help desperate Yazidi refugees climb aboard a helicopter fleeing the mountain where thousands of the Iraqi sect are besieged by Islamic State fighters.
"You can be a bystander, you can say, 'I am telling the world what is going on and that is my job'. Or you can be so overwhelmed by the circumstances that you feel you have to help," Rugman told The Huffington Post UK, saying it had been one of the most "particularly intense" situations he had been in, during 20 years as a reporter.
"If you are on a helicopter, in a confined space that can only take 25 refugees, you are taking up one of those spaces," he added.
The helicopter, which can take only a handful of the thousands still gathered on Mount Sinjar, came under fire from IS militants as it carried them away, Rugman said. As they flew toward the mountain range, dozens of people waved at them, calling for food and water.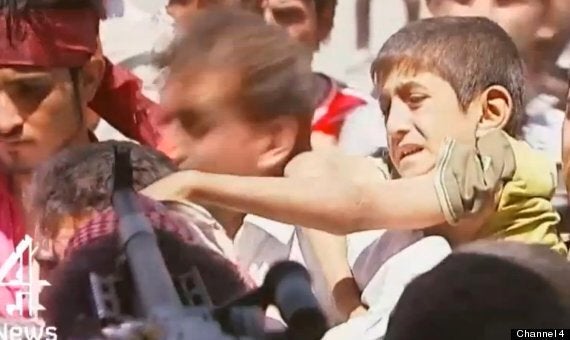 Children on Mt Sinjar rush to climb on board the helicopter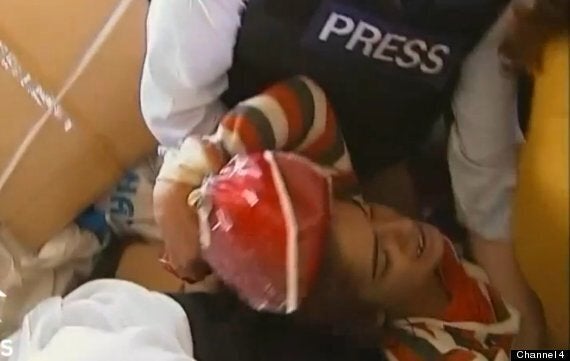 Channel 4's Jonathan Rugman drags some of the fleeing refugees on board
The mission was to deliver food, some of which may have smashed on the rocks below, Rugman said. "I had to help throw out food packets and water, the helicopter goes very fast and you might miss people so if you see them you have to throw it yourself, if you think the crew has missed them."
But then the helicopter did stop for "five precious but awful minutes" on the ground. The team shot harrowing pictures of fathers clinging to their children and racing towards the chopper, some children ran with their arms outstretched and women clutched babies as they clambered inside.
Twenty-five made it into the helicopter, with Rugman helping several on board. Almost all were in tears, including grown men, and Rugman reported that many said they had been trapped for ten days.
"It was such a crush, bodies were piled on top of each other, children were screaming, men were clambering over aid boxes," Rugman said. "Women just handed me their children and asked me to help so I carried dehydrated and drooping children towards the back, to make more space."
Rugman said he found it "extraordinary" that anyone had survived in such harsh conditions. " I met a woman who had been there on the mountain for 12 days, a man who had seen 15 unburied bodies in one place, and 18 in another. People were sheltering under the few trees they can find.
"One person was storing their only possessions in a crack in the rock. There was such an extraordinary sense of helplessness."
Rugman said that there were only four Iraqi helicopters to deliver aid and lift people off the mountain, and today only two went out, because the other four were sent on bombing missions against the jihadists. "The choppers are controlled by Baghdad, they decide whether to kill jihadists or help Yezidis, in Kurdistan, which of course, wants to be separate from the rest of Iraq," Rugman said. "It's a political decision to be made."
The UN's special rapporteur on minority issues Rita Izsak urged: "All possible measures must be taken urgently to avoid a mass atrocity and potential genocide within days or hours - civilians need to be protected on the ground and escorted out of situations of extreme peril."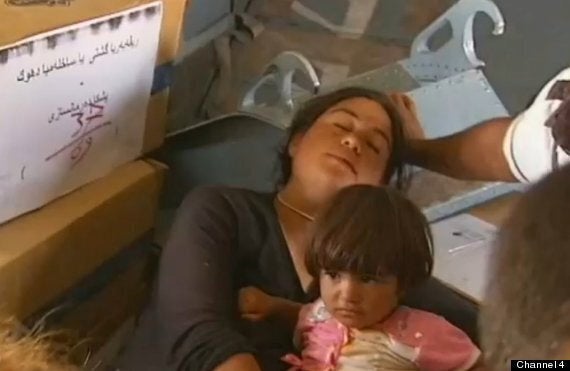 The helicopter came to deliver aid, but then stopped for just five minutes to pick people up
Christof Heyns, the UN's special rapporteur on extrajudicial, summary or arbitrary executions, said the international community "must do all in their power to support those on the ground with the capacity to protect lives".
His colleague Chaloka Beyani, special rapporteur on the human rights of internally displaced persons, said: "We are witnessing a tragedy of huge proportions unfolding in which thousands of people are at immediate risk of death by violence or by hunger and thirst.
"Humanitarian aid must be delivered quickly and no efforts should be spared to protect all groups forcefully displaced by this conflict."
Rashida Manjoo, special rapporteur on violence against women, warned: "We have reports of women being executed and unverified reports that strongly suggest that hundreds of women and children have been kidnapped, many of the teenagers have been sexually assaulted, and women have been assigned or sold to IS fighters as 'malak yamiin' or slaves.
"Such violations are crimes against humanity that must be stopped and punished."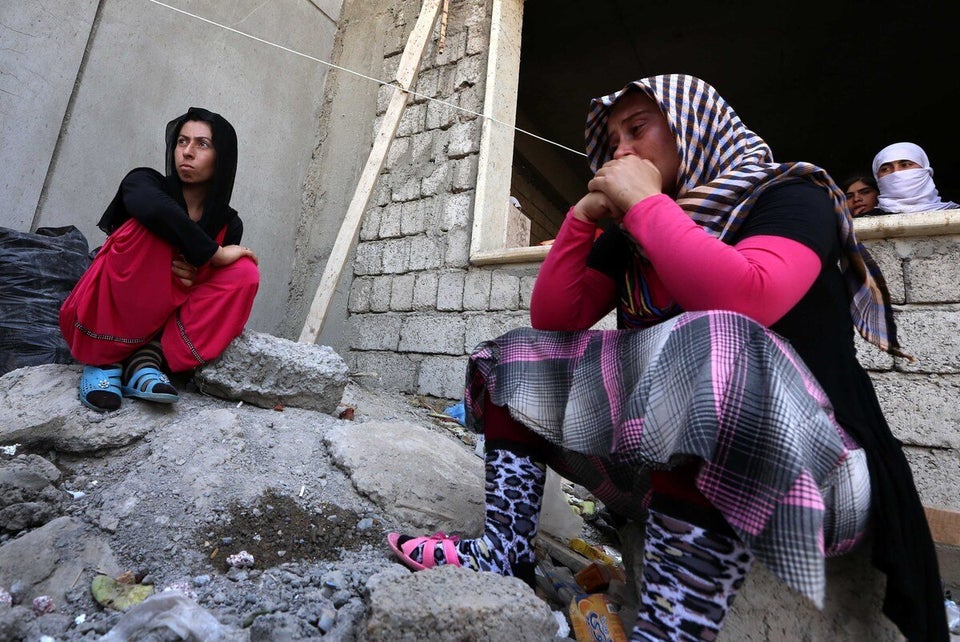 Yazidis flee violence