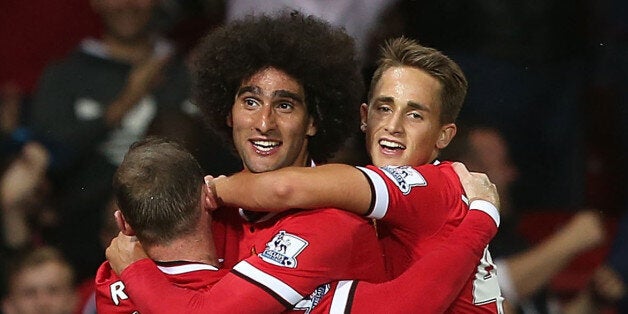 The swag stores on Sir Matt Busby Way were splashed with orange as Manchester United supporters welcomed their first manager from outside the British and Irish shores but the man whose achievements decorate the walk down Warwick Road, Sir Alex Ferguson, preferred the delights of Cardiff and the Uefa Super Cup. And he missed the greatest shock since he anointed David Moyes as manager when Marouane Fellaini scored.
United made it six friendly victories from six under Louis van Gaal on his Old Trafford bow, who admitted this was their "worst" performance of the pre-season. The timing, four days before their Premier League opener with Swansea and with 20 days until the transfer window slams shut, should spur United into action irrespective of the result. They are mirroring Van Gaal's gritty, yet pretty, Holland side but it will not take them to the Premier League zenith again come what May.
Van Gaal did not hold a post-match press conference, which was convenient amid speculation the Argentina left-back Marcos Rojo had submitted a transfer request to Sporting Lisbon ahead of a proposed £16 million transfer to United. Back on home turf, United looked outside of their comfort zone despite a diplomatic and encouraging crowd. Fellaini's goal will have allayed fears - temporarily - at least, and gave those in attendance a moment they will regale their grandchildren with. United do not look formidable just yet, though.
"We are the winner because we are fighting till the last minute and that is a good signal, I believe," Van Gaal told MUTV. United's penchant for late finishes all but vanished when Moyes was manager and already Van Gaal has restored it.
Thin Lizzy's "The Boys Are Back In Town" blared out of the public announcer - too many of them, for United supporters' liking. Ander Herrera was the only member of the starting XI who wasn't at Old Trafford last season while Ashley Young, Darren Fletcher and Javier Hernández were just three players expected to be culled. Fletcher and Young, especially, resuscitated their United careers during the tour of the United States after they flatlined, although injuries to Antonio Valencia and Michael Carrick were conveniently timed.
Eight of United's chosen XI against Valencia should start for Swansea's visit on Saturday but the sparks that flew from coast to coast across the Atlantic fizzled out at Old Trafford. Robin van Persie, still not deemed match fit, watched on from the directors' box alongside about a dozen other absent squad members, from Anderson to Wilfried Zaha, which re-emphasised the embarrassing embarrassment of riches - if you can call them that - available at Van Gaal's disposal.
Clad in a Paul Smith suit shielded by a waterproof coat, Van Gaal watched on phlegmatically as United's players were put through their paces in the warm-up by Albert Stuivenberg, a practice the club were happy to promote on their Facebook page on Tuesday afternoon. United's front six were tasked with perfecting one-touch attacking drills while the defenders focused on their distribution - a key ingredient of Van Gaal's 3-5-2. It is apparent United looked slicker and sharper even during training exercises.
Van Gaal hubristically allowed the starting XI to return down the tunnel first before he cocksurely strode across the turf and took in the acclaim of the Stretford End. There were still 17 minutes to go until kick-off but there was a vociferous enough presence to warmly welcome the former Holland coach. Even when Fred the Red offered him a high five, he didn't fluster whereas David Moyes often moved in tandem with the United mascot. Van Gaal simply does not look daunted by the task ahead of him.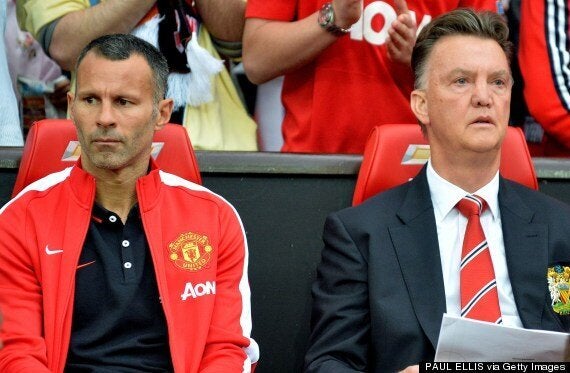 Van Gaal nestles into the Old Trafford manager's seat for the first time
"Fantastic," Van Gaal said of his Old Trafford reception. "They are coming on the pitch and are shouting and screaming your name. Yeah, it's also a big pressure because they expect a lot and you cannot change, in three or four weeks, everything and the players cannot change either.
"So we have to wait and see detail them, and we need time, but we have won every game till now and that's fantastic when you see our opponents. So we have a great confidence to play against Swansea City."
Van Gaal observed carefully from the dugout's vantage point and wasn't once tempted into the technical area during a soporific first-half. Valencia looked dangerous only on the counter-attack and Sofiane Feghouli, Algeria's World Cup goalscorer, might have done better just short of the half-hour mark when he shot straight at David de Gea.
Wayne Rooney and Juan Mata wasted presentable free-kicks and the former then failed from 12 yards. Herrera beamed a crossfield pass out wide for Young to deliver first time and Rooney fell theatrically as he attempted to make contact. Jon Moss, one of the less measured referees, erroneously gave a penalty and Rooney, whose penalty record is unfavourable, drilled the ball against the left-hand post.
Rooney's erratic first touch proved to be his undoing again when Fletcher dinked a visionary pass over the top of the Valencia rearguard with just goalkeeper Diego Alves to beat.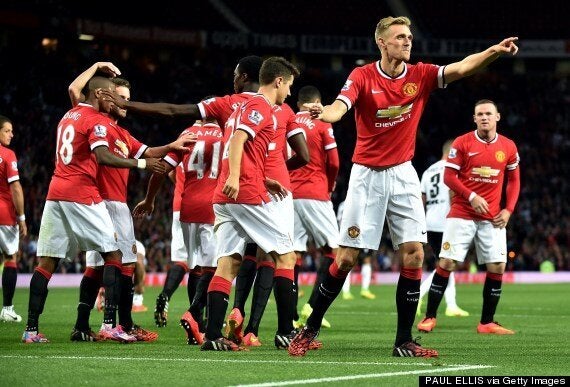 Fletcher opened the scoring shortly after the interval
Van Gaal's 15 minutes were enough to stimulate United shortly after the pause. Fletcher's tentative side-footer from a corner deflected past Alves to mark his first Old Trafford goal since November 2012 and awaken those who might have dozed off in the first 45.
Chris Smalling, Mata, Fletcher and Young were withdrawn with half-an-hour remaining ahead of the Swansea opener and birthday boy Tom Cleverley had a near-instant impact - at the wrong end. The 25-year-old wildly slashed at the ball and succeeded only in assisting Rodrigo Moreno to volley in an equaliser. Moyes would have lamented bad luck, Van Gaal would opine it was bad technique.
There was gallows humour at another scapegoat's expense whenever Marouane Fellaini cumbersomely took control of the ball, yet the substitute performed commendably. It was his compatriot, Adnan Januzaj, who threaded the eye of a needle pass through to Rooney to win it, yet he spooned the ball over on a profligate night for United's No.10.
Rooney was then reprieved by, of all people, Fellaini, when Alves failed to gather a long ball and the Belgian slotted the ball into an empty net for a first goal in United red.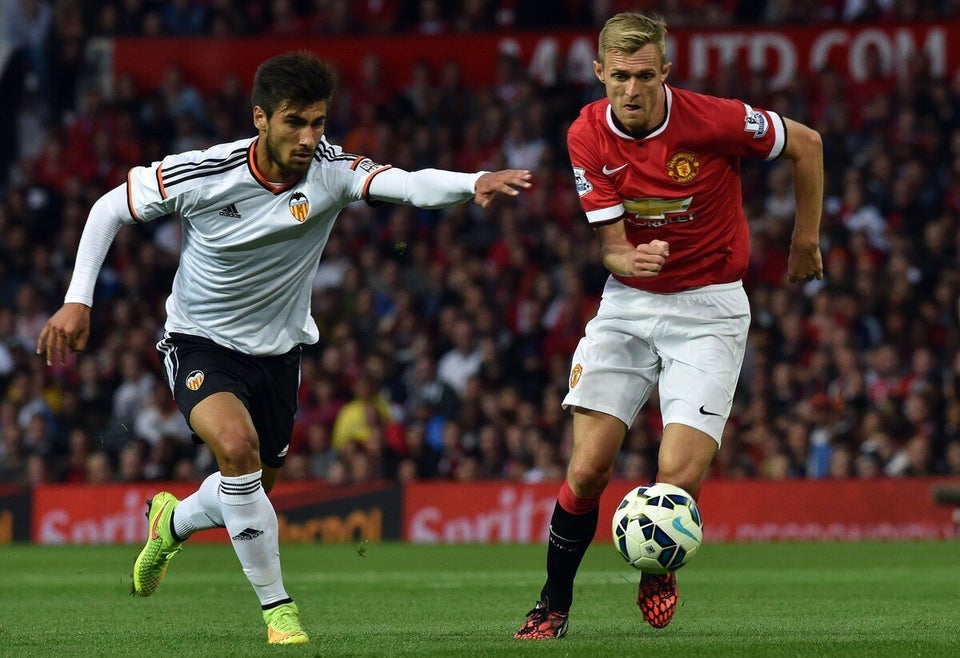 United 2-1 Valencia