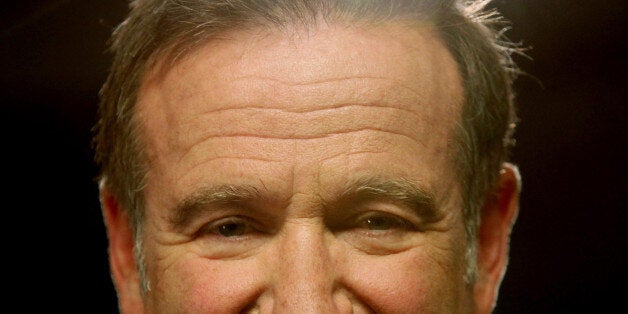 Despite detailed guidelines provided by the Samaritans on how to treat Robin Williams' suicide, much of the media coverage of the actor's death has been criticised by young people suffering from depression as "inappropriate" and "triggering".
Not only does such coverage further stigmatise mental illness, it may also have a triggering effect for those battling with depression or suicidal ideation.
This was made clear in the Samaritan's media guidelines, which explicitly warns that "celebrity suicides have a higher risk of encouraging copycat behavior, particularly if the media coverage is extensive and sensationalist". They also advised the media to "avoid explicit details of the suicide method". A message which, as a flick through the pages of most tabloid newspapers will reveal, was not taken on board by everyone.
As the social media outrage intensifies, some students who have themselves suffered from mental illness spoke to HuffPost UK about the irresponsible media coverage.
Katie Hill, an A-level student, found much of the treatment of the story to be "occasionally insensitive and triggering".
"I found yesterday's front page of The Metro to be particularly insensitive. The way they described his method of death was void of any emotion, like they didn't care for Williams. Also, saying it so matter-of-factly could potentially be triggering to people reading it who are struggling with mental health problems themselves.
"I suffer from depression and have attempted suicide myself and the way it is being reported is hurtful and in some cases is reinforcing the stigma surrounding mental health."
Miranda Bunting is a recent graduate of Roehampton University, who has also experienced mental health problems. In response to the media coverage of Robin Williams' suicide, she comments: "It is a great tragedy that one of the funniest and most likeable actors of this century has gone from our screens. It is especially sad to learn that he was battling from serious mental illness, which led him to ending his own life."
She adds: "However, it is apparent from this incident that there is still a stigma attached to mental illness.
"Let me tell you this – there is nothing selfish about depression. It is a serious mental illness that affects one in four people every year. People have been surprised that someone so funny as Robin Williams can be depressed. But the thing is – nobody is immune to mental illness."
"The media coverage of Robin Williams' death has been vast, detailed, and at times very difficult to read," she said. "The Daily Mail's speculation on why Williams was driven to suicide was particularly insensitive, pointing to money troubles and the cancellation of his new sitcom. At times like this, it's not necessary to ask 'why', even though that might be what many are wondering.
"Instead the focus should be the fact that a talented and selfless man was so wracked with illness he could not face living anymore."
Woodhead believes the coverage of Williams' suicide is indicative of a larger problem globally regarding the stigma surrounding depression and the woeful underfunding of mental health services. "The matter is simple: depression destroys lives." She adds. "Not only the lives of sufferers, but the people around them."
Having suffered from depression herself, the issue has strong resonances for Hannah. "At times when I have been suicidal, there has been no professional help available, with the NHS helpline once memorably telling my mother 'we can't help her until she actually hurts herself'.
"If there is one thing that should come from the loss of Robin Williams, it's that action is taken to provide more support, physically and mentally, from people suffering from depression."
Mental health campaigner and student Matt Woosnam said he had been "saddened" by the coverage of Williams' death.
"The insensitive nature of the 'Metro' and 'The Sun' front pages which ignore the advice given by the Samaritans over the reporting of mental health is endemic of the attitude taken by some towards mental health and it needs to change.
"There are vulnerable people who will have been affected by the news, and the reporting of it, and they should be taken into account when the articles were written."
Young people are often particularly vulnerable to triggering content. As stated in the Samaritan's media guidelines for young people: "Young people are particularly vulnerable to 'copycat' suicides. Research shows they are the group most likely to be influenced by the media."
Lucie Russell, Director of Campaigns and Media at Young Minds, added: "The death of Robin Williams is a tragedy in itself, so the media going into great detail about how he died is unnecessary and gratuitous. Is it in the public interest to know exactly how he killed himself?
"It is tasteless and also could be triggering for other people who may be feeling suicidal and so it is ultimately irresponsible."
The Samaritans helpline is available 24 hours a day on 08457 90 90 90.