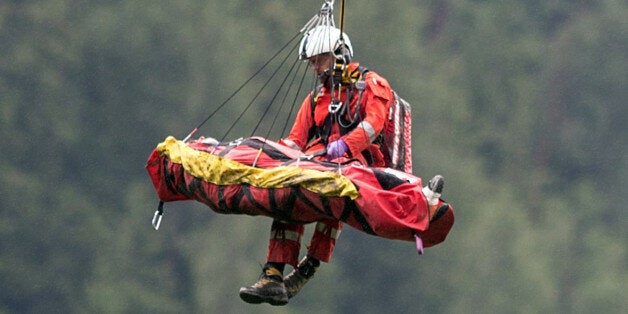 A passenger train has been left precariously dangling over a ravine after a landslide derailed carriages near the Swiss ski resort of St Moritz.
An emergency rescue operation has now been launched, with Graubuenden police branding the accident "serious", according to Switzerland's ATS and SDA news agency.
Swiss national radio has said that one carriage has fallen into a ravine, while another has been left teetering over the the rails, the BBC reported.
The extent of casualties is still unclear but emergency officials have reportedly said a number of passengers were airlifted to hospital following the rail accident.
Stefan Engler, chairman of the Rhaetian Railway, said it was "huge luck" that the accident had resulted in no fatalities and that there was a "guardian angel" on the train, The Mirror newspaper reported.
Here rescue workers can be seen at the scene: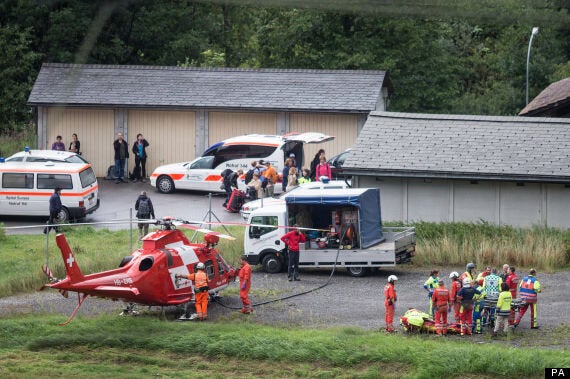 Steven Bueller said: "We all went to the back to shift the weight, to try to stop it from pitching into the ravine. It was a nightmare scene with many terrified people aboard."
Shortly after the accident, users on Twitter began retweeting shocking photos of the accident, which happened after heavy rain hit eastern Switzerland overnight.
The train is said to have been travelling on a service travelling from Chur to the upmarket Alpine resort of St Moritz provided by the Rhaetian Railway, a private Swiss transport company.
Passengers have been pictured apparently walking away from the crash unscathed.
The crash on the Swiss railway network came just three days after three Israeli citizens were killed and five were seriously injured after the minibus they were traveling in was hit by a train on a level crossing at Nidwald in central Switzerland.