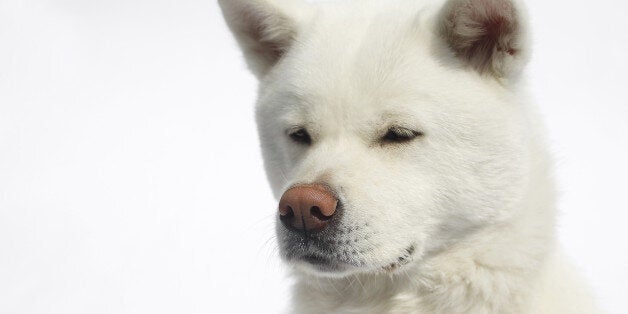 A woman whose award-winning dog bit into another pet owner's knee at Crufts has been ordered to do unpaid work. Lorain Ronis, 52, had been celebrating after her Akita, Eddie, won an obedience prize at the prestigious dog show in March last year when the incident happened. At a trial last month, she was convicted of having a dangerously out-of-control dog, and at Birmingham Magistrates' Court today was given a 12-month community order.
District Judge Ian Strongman ordered Ronis to do 250 hours of unpaid work and told her: "It's a shame you do not accept full responsibility - it was your dog that started by being aggressive." Hours before the incident, Eddie had earned the show's Good Citizen award for obedience.
As the five-year-old Akia approached another dog, Mr Strongman said, Ronis "failed to notice the warning signs" and Eddie went for the other animal. When its owner, Louise Nelson, intervened, she was bitten on the hand before Eddie then sank his teeth into her knee, leaving injuries which exposed bone and required plastic surgery.
Mr Strongman told Ronis: "You acknowledge that it was your fault to some extent and that you had had a drink. "But in evidence at your trial you maintained it was the other dog that started it." He added that Ronis, of Evedon Close, Luton, Bedfordshire, had "shown no true remorse" for what happened.
However, he agreed with pleas in mitigation by Ronis's counsel, Drea Becker, that the quantity surveyor and experienced handler showed an "exemplary character" generally towards dog training. The court was told that a police expert had assessed Eddie after the incident and found he "showed no reaction to provocation".
Mr Strongman said it was Ronis's experience as a trainer and dog handler that "made the difference" between a jail sentence and a community order. He imposed a contingent destruction order on the dog, setting conditions under which the Eddie must be kept when in public.
Mr Strongman said the dog must be kept under the control of someone who is at least 18, kept on a lead and muzzled. However, acknowledging both that Eddie was "usually well-behaved and placid" and Ronis's wish to keep showing the dog at events, Mr Strongman agreed that the muzzle could be removed "when Eddie was being judged in the ring".
Ronis was ordered to pay a £60 victim surcharge and £635 costs. The judge made no order for compensation in light of a civil claim being brought by the injured party, Ms Nelson.
The Kennel Club, which organises Crufts, later said that the dog was competing in a standard breed class, which is judged on the dog's appearance. Caroline Kisko, Kennel Club Secretary, said: "The dog in question was not competing in any obedience-related competitions at Crufts, but rather in a standard breed class, which is judged on the dog's conformation based on Kennel Club breed standards."
Related