Manchester United supporters' hearts might have skipped a beat when Louis van Gaal announced it was his intention to persevere with the 3-5-2 formation that served Holland so well at the World Cup.
In December 2009 an injury-afflicted United braved a freezing Craven Cottage six days before Christmas and left the old ground feeling about as festive as Ebenezer Scrooge. Fulham thrashed United 3-0 on a day the statistics claimed the visitors had had four shots on target, yet it is difficult to recall United mustering a single effort.
For one of the game's greatest managers Sir Alex Ferguson committed some outstanding cock-ups in his time. Not starting Mark Hughes on the final day of the 1994-95 season, paying £25 million for Anderson, the aversion to signing midfielders over six years and Bébé are just a few of the great Scot's errors. Few have panned out so calamitously as the last time United played a competitive Premier League game with a 3-5-2 formation, though.
Gary Neville, Rio Ferdinand, Nemanja Vidić, Wes Brown, Jonny Evans, Rafael da Silva and John O'Shea were all sidelined for the trip to Fulham. It was a defensive injury crisis of major proportions that began with Neville's withdrawal at West Ham earlier in the month, which forced Michael Carrick to play in defence for the first time in his life. Alas, West Ham were so toothless United battered them 4-0 at Upton Park.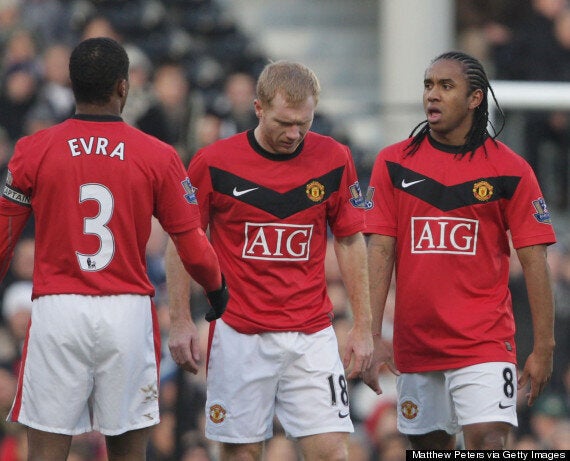 Scholes was at fault for Murphy's opener
Ferguson then trialled the 3-5-2 system at Wolfsburg in United's final Champions League group game. Already through to the last 16, United's bench included Oliver Gill, Magnus Eikrem, Matty James and Cameron Stewart, none of whom would ever play for the club's first-team. Carrick, Darren Fletcher and Patrice Evra made up the back three that semi-miraculously conceded just once to Edin Džeko as a clinical Michael Owen hat-trick gave United one of their most satisfying wins of the season.
Four days later, Vidić and Brown returned and Ferguson reverted to a back four as Aston Villa fortuitously recorded their first win at Old Trafford in 26 years. For the following fixture against a second-string Wolves in midweek, Ferguson brought Ritchie de Laet in for the absent Brown and United won 3-0, however Vidić departed on the hour mark for Fletcher and United were left with two central midfielders in central defence. De Laet would have to play at Fulham.
And so Ferguson switched back to 3-5-2 at Fulham. De Laet, Carrick and Fletcher were bullied by Clint Dempsey and Bobby Zamora, whose goal was sandwiched in between strikes from Danny Murphy and Damien Duff. Ferguson had the right-back Fabio da Silva and Jonny Evans' brother, Corry, available, only the Brazilian watched from the bench and the younger Evans chilled in the stands.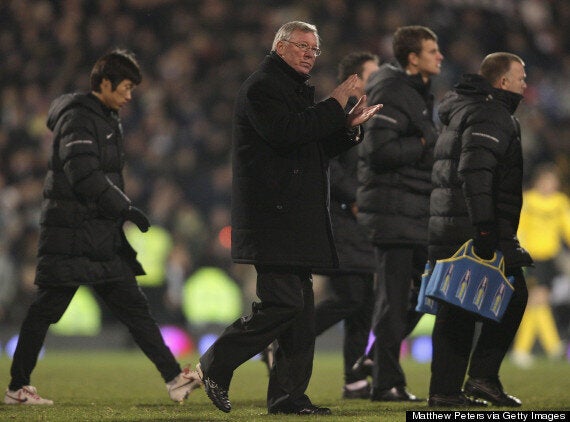 Ferguson shows his appreciation for United's vociferous following
With Michael Owen impersonating Where's Wally up front, the dreadful duo of Anderson and Darron Gibson anchoring the midfield and Paul Scholes culpable for Murphy's opener, United were outplayed to the extent those who generated the most sympathy were the defenders. De Laet wasn't good enough and Carrick nor Fletcher should have even started there.
United fans were uproarious. "This is how it feels to be City, this is how it feels to be small, this is how it feels when your team wins nothing at all," they chanted for the final 15 minutes. Their humbling was bookended by Portsmouth's tea-time defeat of Liverpool and Manchester City's sacking of Mark Hughes, so the pre-Christmas away day still included plenty of schadenfreude-induced merriment.
Ferguson welcomed back Vidić and Brown for the trip to Hull eight days later and United returned to winning ways with a 3-1 triumph. Ferguson only began a match with 3-5-2 again at Leeds in a comfortable Capital One Cup in 2011.
Van Gaal has enforced the 3-5-2 system in all six of his friendly matches in charge of United. Evans, the only centre-half remaining at the club from that winter of discontent in 2009, could only watch on wistfully back then and might be in a similar position on Saturday. Coincidentally, his injury could force Van Gaal to restore a midfielder back into the defence against Swansea nearly five years on from his last unsuccessful stint there. His name is Darren Fletcher.