The cast of 'Downton Abbey' have been posing for promotional photos ahead of the fifth series starting on ITV and some eagle-eyed fans have spotted a not-so-deliberate mistake in one of the pics.
Despite the new series being set in 1924, in one shot of the Earl Of Grantham (Hugh Bonneville) and Lady Edith Crawley (Laura Carmichael), a plastic water bottle can clearly be seen on the mantlepiece behind them.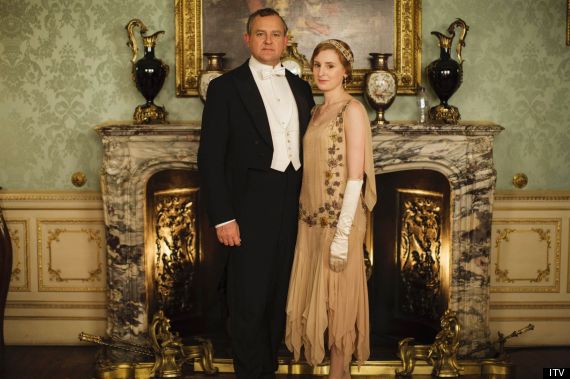 Whoops.
And if you didn't know already, plastic bottles like the one over the left shoulder of Lady Edith, weren't even a thing until the early 1960s.
The much-anticipated new series of 'Downton' returns to ITV1 next month and we've already been given a sneak peak of some of the new child characters who will have joined the cast on the show's Instagram page.
As Series five sees 'Downton' move into the early 1920s, Master George Crawley and Miss Sybbie Branson have been recast with older children.
"The dear children of #Downton Abbey are growing up," reads the first picture's caption.
"We are most delighted to introduce Fifi Hart who will play Miss Sybbie Branson in the upcoming new series.
"It seems like only yesterday that they were just babies! #DowntonAbbey #Children #Series5."
Let's just hope they remember to take off their loom band bracelets when they start filming.
Producers have been keen to keep the series five storylines under wraps, but a teaser trailer released in June suggested dark times are ahead.
Richard E Grant has been confirmed as a guest star in series five, while 'Coronation Street' actress Sue Johnston will make an appearance in the new series asa lady's maid to Maggie Smith.
LIKE US ON FACEBOOK | FOLLOW US ON TWITTER