Three festivalgoers have been treated for "serious side-effects" after taking a tablet they believed to be a class A drug.
Emergency crews were called to V Festival in Weston Park, Staffordshire, after the trio took tablets known as "Blue Ghost".
Staffordshire Police said: "Emergency teams have treated people this evening who took a blue tablet they believed to be ecstasy at V Festival in Weston Park. All had serious side-effects after taking the tablets and needed urgent medical treatment.
"If you see anything suspicious contact the on-site police or security immediately. Officers are investigating the incidents and have already seized a small number of tablets called 'Blue Ghost'. If you have taken any of these tablets, contact emergency teams immediately."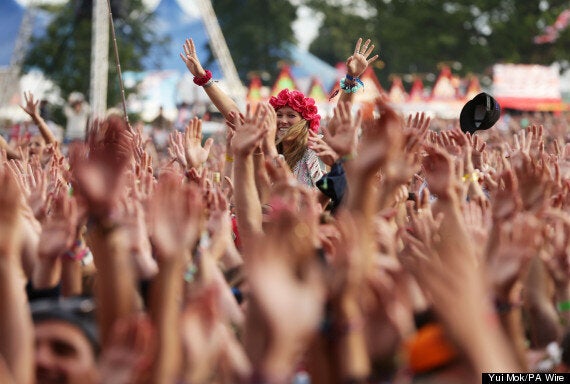 The crowd watching Example performing on the Main Stage during day one of the V Festival
It is believed the trio reported stomach problems, though none required hospital treatment. A festival spokesman said: "In association with the police we have been able to react swiftly to these reports and take measures to issue a warning in order to protect the safety of our customers.
"We take these reports seriously and will do everything in our power to support the police in their investigations to ensure the festival continues to be a safe environment for everyone."
The spokesman, who said the festival had a zero-tolerance approach to drug use, confirmed the three people had not been ejected from the site, adding: "Police investigations are focusing on the suppliers of any drugs."
This weekend, government scientists are being sent to the V Festival to analyse samples of so-called legal highs amid renewed warnings against taking the party drugs.
The Home Office is launching a national campaign highlighting the risks of legal highs including laughing gas, which was more widely used than powdered cocaine and ecstasy last year.
It comes in the wake of warnings from the Local Government Association (LGA) that authorities are seizing massive hauls of laughing gas cannisters - including 1,200 gathered in one night in Shoreditch, north London.
Scientists from the Government's Centre for Applied Science and Technology will go to V Festival in Chelmsford today and tomorrow to examine samples of new psychoactive substances, known as legal highs.
They are aiming to gather information about which new substances are available in the UK, and the latest Home Office annual report on the trends is due to be published today.
Organisers of the V Festival have had a ban in place on legal highs for seven years at both sites in Hylands Park in Chelmsford and Weston Park in Staffordshire.
Chief Inspector Jonathan Hayter from Essex Police, who is leading the police operation in Chelmsford, said: "We want to remind festival-goers that psychoactive substances will not be tolerated and if anyone is found to be in possession of them they could be prosecuted and removed from the festival."
The Home Office campaign, aimed at young people aged 15 to 21, will see adverts on the radio, online and sent to mobile phones.
It stresses the risks associated with legal highs, including nitrous oxide, known as laughing gas, which was the second most popular drug among young adults in 2013/14 after cannabis. Later this year the campaign will expand to target social and youth workers.
Crime Prevention Minister Norman Baker said: "All too often young people take their lives into their own hands by dabbling with so-called 'legal' highs when they don't even know if they are safe, let alone legal. Some of these substances are proven to be more dangerous than illegal drugs and it is vital that young people are informed about the risks associated with their use."
More than 350 substances once classed as "legal" highs have been banned by the Government. Earlier this month the LGA said it was "deeply disturbing" that many young people view nitrous oxide as safe, despite it being linked to a number of deaths.
Abusing nitrous oxide can lead to oxygen deprivation resulting in loss of blood pressure, fainting and even heart attacks.
While inhaling nitrous oxide is not illegal, council officers seized the cannisters - used to fill balloons with the gas that are sold to users for around £5 - under street trading regulations.