Four far-right demonstrators have been arrested after they staged a violent demonstration outside the wedding of a Israeli Muslim man and his bride, a Jewish convert to Islam.
Mahmoud Mansour and Morel Malka were given armed guards for their wedding in Rishon Letzion, eight kilometers south of Tel Aviv. The couple live in Jaffa, a predominantly Arab connected town to Tel Aviv, and were already legally married in a Muslim ceremony, with last night's event purely a party to celebrate.
Together for five years, Malka converted to Islam before her marriage. Her relatives, apart from her father who opposed the marriage, were due to attend the wedding.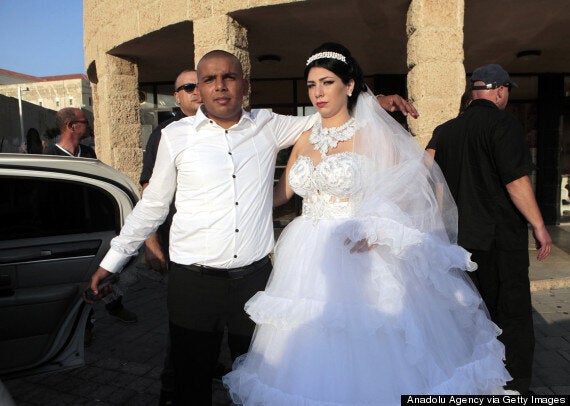 Israeli Jewish Morel Malka (2nd R) who converted to Islam gets married Palestinian Mahmoud Mansour (3rd R) in spite of the threats of extreme right-winger zionists
More than 200 demonstrators from a group called Lehava (the Hebrew word for "flame" but also an acronym for Preventing Assimilation in the Holy Land) came to protest against the "assimilation" of the two partners, holding signs including "Assimilation is a Holocaust."
Supporters of the couple came to hold a counter demonstration outside the wedding, singing popular love songs to drown out the right-wing protesters cries, and holding a sign that said "Only love will win".
The couple had applied to Rishon Letzion Magistrate's court for an injunction to stop the protest, but the court refused, and instead ordered protesters to remain at least 200 metres from the wedding party. Police asked each guest for ID and asked them questions about the couple before permitting them entry.
"Only this morning they tried to prevent us from protesting and I am pleased the court accepted in practice our position and allowed freedom of expression," he continued. "This is a democratic country. I think we have the right to protest against assimilation. That is what we have come to do today."
President Reuven Rivlin commented on the wedding and opposition to it in a post on his Facebook page.
"There is a red line between freedom of speech and protest on the one hand, and incitement on the other," he wrote. "Mahmoud and Morel from Jaffa have decided to marry and to exercise their freedom in a democratic country.
"The manifestations of incitement against them are infuriating and distressing, whatever my opinion or anyone else's might be regarding the issue itself.
"Not everyone has to share in the happiness of Mahmoud and Morel — but everyone has to respect them. Among us and within our midst there are harsh and sharp disagreements but incitement, violence and racism have no place in Israeli society.
"These manifestations are undermining the foundations of our shared life here in the Jewish and democratic, democratic and Jewish state of Israel."