Unprepared, undercooked and underwhelming, they were deservedly beaten by Swansea on Saturday and although Chelsea visit Lancashire tonight, Sean Dyche's Burnley will already be relishing United's visit next week. At least Michael Owen won't be up front.
Two-thousand-and-nine signalled a significant shift in United's approach. Suddenly, there was no value in the market, Owen joined on a free transfer and Gabriel Obertan, a reserve at Bordeuax, was signed for £3 million. The club had sold Cristiano Ronaldo to Real Madrid for £80m and Carlos Tévez's loan deal expired, yet they chose against competing for the continent's best players. United spent £19.25m in the summer of 2009 as the leeching Glazer family's ownership drained the squad of new blood.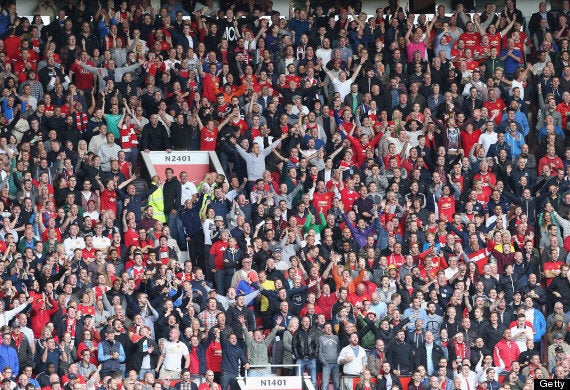 75,339 watched United lose to Swansea on Saturday
On Sunday night, #Glazersout was trending on Twitter. Deprived of transfers and trophies, United's support is beginning to resemble Arsenal's at this stage last season. Smarting from an opening day defeat, they have had enough, yet the keyboard warriors are going to have to do more than get a hashtag trending.
For one, some of these supporters will post "#Glazersout" despite their avatar featuring them kitted out in a brand new Chevrolet replica shirt. This blatant hypocrisy was witnessed during the green and gold movement in 2010 when some fans had a scarf draped around their neck but sported a home shirt. Eventually, the green and gold scarf became not so much a political symbol as a fashion accessory.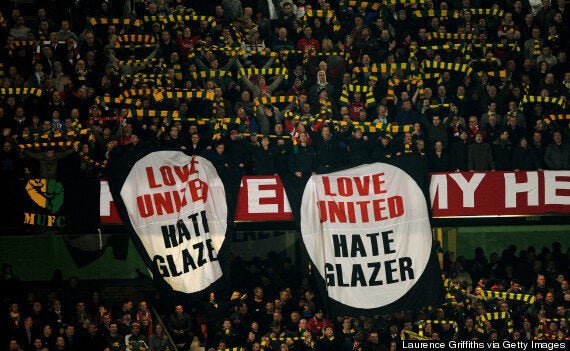 United's green and gold movement reached its zenith against AC Milan in 2010
United fans are not going to have an affect on the running of their club via Twitter. They aspire to be the sporting equivalent of the Egypt Revolution of 2011 yet Egyptians did more than sit on their sofas. "#Jan25th" drew 80,000 to demonstrate in Cairo but if United supporters are going to drive the Glazers out of the club then 80,000 need to stay away from Old Trafford. Should United's executive vice-chairman Ed Woodward miraculously sign Arturo Vidal, Mats Hummels and Angel di María and they still lose at Sunderland and Burnley, it won't be the Glazers' heads these shallow supporters will be calling for.
Not going to games is a wrench for thousands who have followed the club from Rome to Mandalay and visited loan sharks to fuel their addiction. Some just can't quit but others have not stepped foot back inside the ground since the Glazers' 2005 takeover. The vast majority on Twitter have, possibly, never been to Manchester, never mind Old Trafford.
Others just don't have a problem with the Glazers, or have only become allergic to their running of the club since Sir Alex Ferguson retired. Ferguson was delegated by the Glazers to address supporters and his haughty comments occasionally reflected their callous capitalism. "Go and support Chelsea," he advised some United fans in Budapest nine years ago. "I don't care what the fans think," was another. Cannily, Ferguson brought 10 trophies to the club despite a £600m debt.
You rarely heard "Die die Glazer fucking die" reverberate around Old Trafford in the years before Malcolm Glazer passed away. Nowadays, it's "All I know is City's gonna die", rather than Glazer, and his May death was not greeted by United fans running round Old Trafford with a Glazer papier maché head on a stick. The majority of fans were so well sated with success they didn't care about the abhorrent running of the club.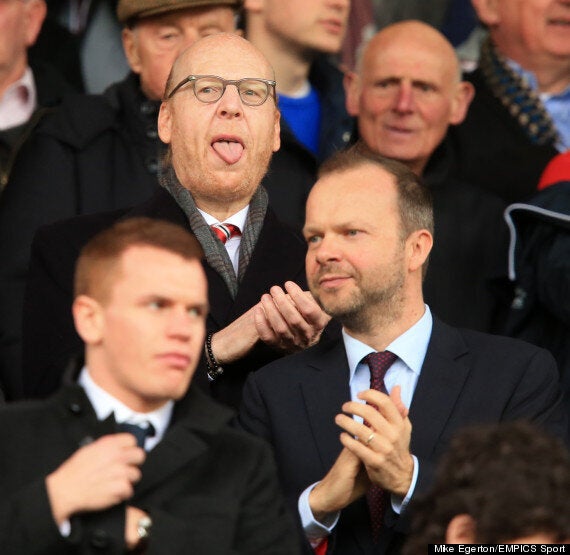 Avram Glazer and Ed Woodward are widely despised by United fans
Ferguson lulled the Glazers, whose knowledge of football wouldn't fill a postage stamp, into a false sense of security. They backed his disastrous decision to anoint David Moyes as his successor even when he should never have been considered for the United managerial role. Avram Glazer was at Old Trafford on Saturday and must have noticed what a shambolic side United have become.
United have made just two statement signings in the post-Ronaldo era: Robin van Persie and Juan Mata. Van Persie was a stirring response to Manchester City's title win on goal difference but Mata, at a club-record £37.1m, signalled how United would have to spend huge sums regularly in the market if they were to compete for the title, let alone return to the Champions League. Ferguson's ingenuity could yield a title despite signing a Fulham reserve, an unknown Mexican and a Portuguese vagrant but the last time he had a squad as dire as the current crop at United was when shell suits were fashionable.
Sponsors are concerned at United's malaise, which is more worrying for the Glazers. They have parasitically run United for nine years, saddling the club with a huge debt and hiking ticket prices, yet the demand for an Old Trafford ticket is still high. Supporters will only cause the Glazers distress if they vote with their feet and Old Trafford is pockmarked with empty seats.
Woodward said in February: "We aren't afraid of moving in the market in a way we perhaps haven't seen in recent years." In some ways he is right. To have brought in just two players to a team that dropped from first to seventh in a year has never been seen before.
Popular in the Community