Here are 10 things to know about the latest Argentinian to arrive at Old Trafford...
He will become the fourth Argentinian to play for United
Sir Alex Ferguson spoke unflatteringly about Juan Sebastián Verón, Gabriel Heinze and Carlos Tévez in his book. He found them "difficult to work with", claimed they "didn't try particularly hard to speak English" and added Argentines lacked the "expressive personalities of Brazilians". Verón remains a cult figure amongst a section of United supporters despite just two ambivalent campaigns at the club and Heinze, before he exercised the nuclear option with supporters and tried to join Liverpool, was named the supporters' player of the year in his debut campaign. Rojo (right) and teammate Verón during their Estudiantes days
Tévez enjoyed unmatched adoration from fans during his two years and five trophies at Old Trafford but became the pantomime villain when he joined Manchester City after his loan expired.
He joined Estudiantes aged 10
Rojo spent half his life at the Argentine club until he left for Spartak Moscow, winning the Copa Libertadores in 2009 and the Primera División in 2010.
"Brasil, decime que se siente," was aired at every Argentina game and Rojo was one of the (blurred) players who joined in the song-and-dance after the quarter-final win against Belgium.
He is the second left-back linked with Southampton to join United
An inauspicious omen, Alexander Büttner was originally set to join Southampton two years ago but the move fell through due to an unspecified "demand". A month later, he signed for United. Southampton were, supposedly, prepared to pay Sporting Lisbon £14m for Rojo earlier this month.
Just look at the rabona he pulled off against Bosnia and Herzegovina at the World Cup...
He joined Sporting Lisbon in 2012
And for just £3.5m from Spartak Moscow. A good World Cup can always add an extra digit to a player's price tag.
He scored at the World Cup
Rojo claimed the fortuitous winner in Argentina's final group game with Nigeria, heading the ball onto his knee and into the back of the net.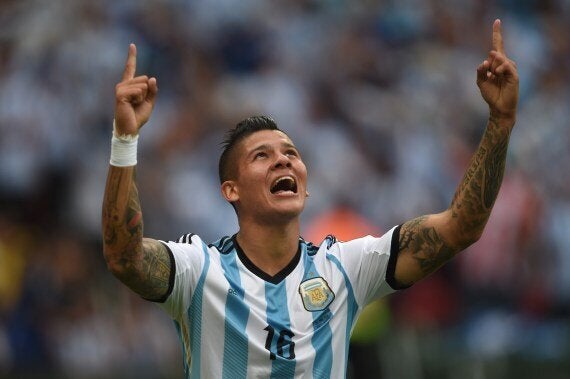 Rojo celebrates his winner against Nigeria
He missed just one World Cup game
Rojo was suspended for the quarter-final with Belgium after collecting yellow cards against Bosnia and Herzegovina and Switzerland, but was restored to the line-up for the semi-final shootout win over Holland.
He was named in the World Cup All-Star Team
The World Cup was not laden with impressive left-backs so Rojo was included in the All-Star XI after Argentina reached the final. Only Pablo Armero and Daley Blind performed on a comparable level to him on the left.
He will be the fourth Argentinian international in Manchester
Any homesickness Rojo suffers from could be eased by the presence of City's Pablo Zabaleta, Sergio Agüero and Martín Demichelis. Just don't expect to see them at Bem Brasil.