While leading ladies may dominate the red carpets of film awards, when it comes to on set and behind the camera women are grossly under-represented.
Industry figures show that only 11% of identifiable protagonists are female, while, in 2013, women accounted for just 16% of directors, executive producers, producers, writers, cinematographers, and editors.
So far, so painfully male-dominated.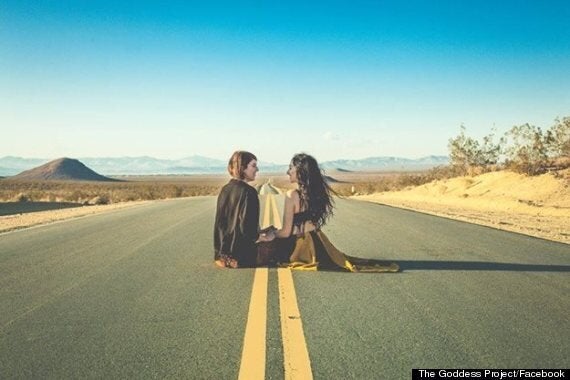 But that's where The Goddess Project comes in. Two women, Holli and Sara, have called time on the industry's gender inequality to bring a fresh set of stories to the forefront - those of ordinary, but at the same time extraordinary, women.
"I grew up watching mainly male protagonists in films and without seeing women I related to on TV shows and media," says Holli, 24. "But we want to change that."
Armed with nothing but a camera and a customised campervan (see the video above), the pair ditched their lives working in the media industry to travel 10,000 miles across the US and make a grassroots documentary film on the lives of women from all over the country.
From professional healers and circus performers to single stay-at-home mothers and CEOs, Holli and Sara met more than 100 women from all ages and backgrounds to showcase female experience.
"What struck us was that most women didn't feel that their story was worth telling," says Sara. "Some women were moved to tears simply to have someone to listen and pay attention to their stories."
In the media we're led to believe that it's only celebrity news that matters, many normal women who are doing smaller, but no less significant, things feel insignificant by comparison. But, they believe, that every story is profound and can be learnt from.
Perhaps this explains why they are hard-pressed to pick out their most memorable interviewee.
For Sara, 27, her most significant moment was meeting Mary Kowalik, a mother who survived World War II, a Polish refugee camp and traveling across Europe to the US.
"When her and her family arrived in America, they kissed the floor because they were so glad to be in the country," recalls Sara. "She spoke about the remarkable freedom we have as a nation and was troubled by how little most of us do to use this power to its fullest."
Taking time to dig deep, ask the big questions and reflect, Holli and Sara learnt many life lessons that they hope to be able to convey in their finished film.
"We can make a lot of real positive change in the world, by sharing such stories," says Holli. "Every story has ability to make an impact. If you are open-minded, you can learn from anyone you meet. No matter how different you think you are, no matter you initially judge them. If you sit back and take a moment you can learn something from everyone."
But if you think the film is little more than a massive girls-only group hug, think again. Because the film, the journey and the experience, wouldn't be possible without a little help from the boys.
From nominating women to feature in the documentary to helping with transports issues (one guy even donated the campervan they now call home), men showed the project support from day one.
"Most of the women we met have amazing men in their lives who work with them and support them," says Holli.
"It's a recurring theme in the documentary is about having healthy relationships and co-collaborating to change the world," adds Sara.
To show your support of The Goddess Project, visit their Kickstarter Page to donate.