HuffPost UK Lifestyle love to celebrate strong women, and in our My Life series, we're asking the women who inspire us what makes them tick.
In 1995, Rowena Bird co-founded beauty brand Lush which has come a long way since being known as (Rowena's words) 'the smelly shop'.
Lush is well-known for their ethical 'no animal testing, no plastic bags' policy, and since the launch, they have a whopping 900 stores in 51 countries. But it's reassuring to know that while Rowena is extremely busy, she has strict boundaries around her personal life and has a very neat trick for getting through a snowstorm of work...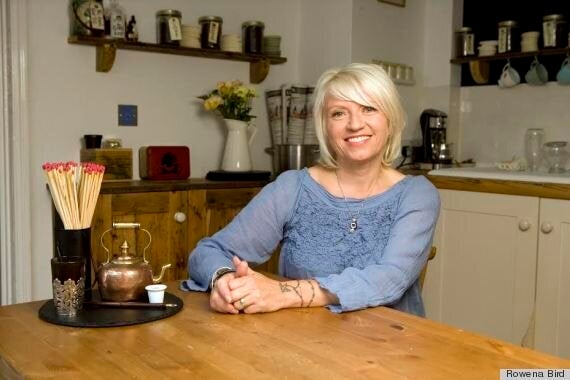 Describe your average day
Thankfully I don't have an average day. This week for example I am working in Japan.
I wake most mornings around 7am, if I am having a worry about something it could be earlier. Often I start my day with a Skype call to Australia or Japan to catch their end of day, and then it's into the labs at 29 High Street where anything could be going on.
Impromptu meetings often happen to discuss new product, direction, ideas, gossip and general communication.
As I travel a fair bit, because I look after our partner countries, I may have found something that has inspired me to create a product and I can have a little play and see what I can come up with.
I have a long room that is half lab and half lounge with a desk in the middle, I love it.
How do you maintain work-life balance?
I don't do emails in bed, if it is just an evening of dinner and television I think it's fine to do emails and watch television at the same time, I am quite good at multi-tasking.
I am very aware that when I return from a trip I do not go straight to my laptop, I spend quality time with Mike my husband, besides which I miss him hugely when I am away.
As travel is what I love I book trips for us, without the laptop but still with my Blackberry, so we can get away from it all (almost).
I would love to say I do yoga or Pilates but I don't … I love to soak in a bath and get treatments in our spa.
Our latest treatment, The Hard Days Night is the most effective form of relaxation I have found, the relaxed effect lasts for a good four days.
Other than that I garden and grow vegetables, the sense of satisfaction when the rose garden is weeded and dead headed is a great feeling.
If the going gets real tough I will lie in an Alexander Technique supine position and do some meditation.
I travel to give my mind something else to think about and my eyes something else to look at, there's nothing more relaxing than a big view and a new experience.
Lush have a focus on natural products - why is this important to you?
Our ethics and values have remained steadfast ever since we started in the cosmetics industry - fighting animal testing is integral to our beliefs.
We only buy those ingredients from suppliers who do not test on animals. Then, when we turn those ingredients into a product, we test the finished product on our panel of human volunteers. We think that this is a far safer way to test products than to test them on animals.
When our products go onto the market we know how those products behave on people - not just the effects they have on rabbits or rats!
Are you just as green in your personal life?
I do fly, I can't help myself, I love to travel, see the world and meet interesting people. I did have a pilots licence and for a short time I owned an old plane but I have since given up and sold the plane, that kind of flying was unnecessary so it stopped being fun, but I do see the small planes fly overhead and long to be piloting one.
We don't live in a particularly green house, we have done our best but it is listed so the council isn't keen, however we recycle as much as we can, compost, grown our fruit and vegetables, turn lights of when the room is not in use, that sort of thing.
I also always carry my own re-usable bags with me, so I never have to use plastic ones from shops.
Lush has seven partners, how do you work together in harmony?
I don't know how we do it, we just do. We love and respect each other I guess is the answer. We all gently overlap each other with our skill sets so we are always able to support if times or decisions get tough. But like any family we do fall out occasionally but it soon blows over.
How do you define 'success' ?
People enjoy working with us, I hear lots of laughter in the buildings, I now rarely have to explain what Lush is and people know us for more than just being the smelly shop.
What is the most challenging thing about your job?
I just get on and do stuff, if I stopped to think if it was too much I might not get out of bed in the morning.