Ángel di María is on the verge of completing a £56 million transfer to Manchester United in what would be the first statement signing of the Louis van Gaal era.
United have held discussions with Real Madrid, with the renowned "super agent" Jorge Mendes believed to be acting as an intermediary. The fee could rise up to £56m and Di María could be available to make his United debut against Burnley at Turf Moor next week.
Although Di María had reservations about United's inability to offer European football, Cristiano Ronaldo is believed to have played an influential role in him choosing the 20-times English champions over Paris Saint-Germain, who are mindful of Uefa's Financial Fair Play rules.
The fee for Real Madrid winger Di María, 26, will smash the club-record £37.1m United paid Chelsea for Juan Mata in January and could surpass Fernando Torres' record British transfer from Chelsea to Liverpool in 2011.
Real coach Carlo Ancelotti revealed earlier this week both Di María and Sami Khedira had asked to leave the club. Both players were omitted from Friday night's Supercopa second leg defeat at Atlético Madrid and United have quickly taken advantage of the Di María developments.
Di María enjoyed arguably his finest season at the Santiago Bernabéu and was named man of the match in their 4-1 Champions League final victory over Atlético. However, he was dismayed by Real's £63m acquisition of James Rodríguez, widely regarded as the best player at the World Cup. Rodríguez's arrival, as well as the signing of Toni Kroos, have marginalised a number of players in the Real squad.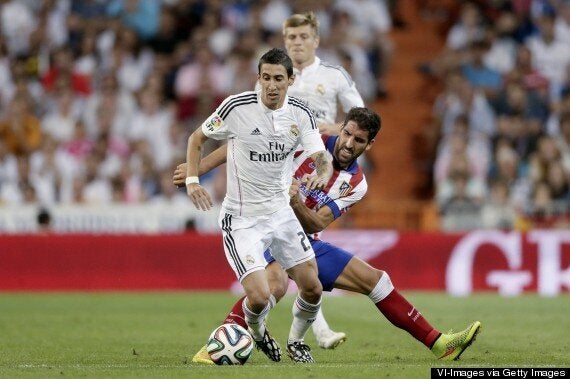 Di María came on as a substitute in the Supercopa first leg
PSG announced this month they had ended discussions over a Di María deal, claiming he was too expensive after spending £50m to bring David Luíz from Chelsea. That paved the way for United to intensify their interest in the forward, who will become the fifth Argentinian to play join the Old Trafford club.
Di María's compatriot, Marcos Rojo, completed his £16m move to United on Wednesday, taking United's transfer window spending up to £72m - their most in any summer. That will rocket up to a whopping £122m with the arrival of Di María as Van Gaal continues to address a "broken and unbalanced" squad.
Only two weeks ago, Van Gaal praised Di María as a "winger of the highest level".
"We don't have wingers of the highest level, like Ronaldo or Di María or somebody like that," Van Gaal said. "So, I have to play in another way – and you have seen that already. I only buy when I think we need to buy – in the position that is necessary."
United are keen on recruiting one more player, preferably a central midfielder, and are mulling over the Ajax defensive midfielder-cum-left-wing-back Daley Blind. However, club sources have been at pains to stress there is no interest in Arturo Vidal despite briefing earlier in the summer that there was.