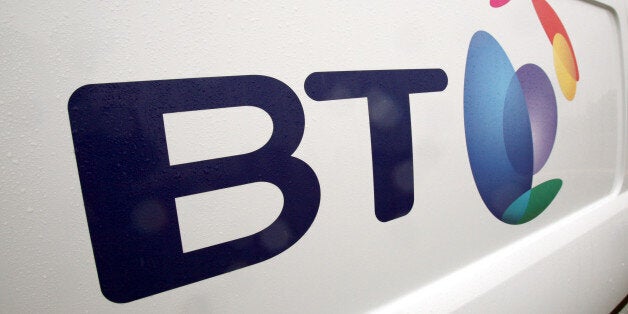 BT is warning millions of customers that it is increasing prices by up to 6.5% in a blow to households already struggling with soaring utility bills.
In a "huge wrench" for customers, the telecoms giant will increase the price of standard line rental for direct debit customers by £1, or 6.25%, to £16.99 from December 1, while the pence per minute (ppm) rate for calls to UK landlines and 0870 numbers will go up 6.44% from 9p a minute to 9.58p.
The set-up fee for landline calls will increase from 15p to 15.97p, residential calls to the Timeline speaking clock will go up from 36.6p to 38.97p and call return will increase from 19.9p to 21.19p.
Broadband prices are going up by as much as 6.49%, although BT said its current "high profile" press and TV broadband offers will stay the same price.
The cost of BT Basic, the phone service for low-income customers, will remain at £5.10 a month with a call allowance.
BT said the majority of its customers were on inclusive call packages and did not pay the set-up fee or ppm charges, adding that calls bills had "decreased 14% in the last five years".
But it said those customers on the popular Unlimited Anytime Calls plan would see the price increase by 6.43% from £7 a month to £7.45.
The move follows its rival, Sky, announcing it is to increase some tariffs on September 1.
BT Consumer chief executive John Petter said: "BT is sensitive to the tough economic times and we've taken care to make sure that low-income customers avoid price increases.
"We've added extra money-saving options for low-income customers and for customers who only want a phone line for calls.
"Although some prices have gone up, we want to help our customers to find the best value BT option with Right Plan.
"We are introducing extra ways for customers to maximise their savings, such as the UK's cheapest line and broadband bundle for low-income customers and Home Phone Saver for customers who just want a great value standalone telephone package."
But Citizens Advice chief executive Gillian Guy said the "inflation-busting price rises" are "bad news for cash-strapped households."
"With the extremely tough pressures on household budgets at present and wages that will continue to stay way below inflation, even a small increase in phone and broadband bills could have a big impact on family finances.
"In the past 12 months, Citizens Advice has dealt with more than 62,000 telephone and broadband debt problems - including more than 40,000 where our clients have needed help managing repayments. Switching supplier is one way of avoiding extra costs, but with our clients reporting broadband cancellation fees of up to £625 when they switch, many will find themselves locked into deals which they want to get out of.
"Many standard television, broadband and phone packages come as bundles which can make it hard for consumers to spot price rises. Utility providers need to be up front with their customers about when prices are going up and where there are savings to be made.
"BT's launch of a new broadband package for low income customers is a positive move that could be a relief to some people. It's vital that any business treats with sympathy people who fall behind on their bills."
Last month BT claimed its Premier League offering was helping it win its battle with Sky as it grew broadband and TV revenues by a quarter.
The telecoms giant said it added a net 104,000 broadband customers in the three months to the end of June, marking a fourth successive period in which it outperformed its rival on this measure.
BT is about to begin its second season of a £738 million deal to screen 38 top-flight games a year for three years, muscling in on Sky's dominance of top-flight football.
It has also paid £897 million for a three-year Champions League deal from 2015.
The telecoms giant said its TV sport offering had helped it to grow revenues in its consumer division, which were up 10% to £1.04 billion compared with the same period last year, while broadband and TV revenues rose 26%.
Operating costs for the consumer division increased by 12% to £808 million due to the costs of the sports offering.
BT moved into football coverage last year as part of a strategy to shore up its position in broadband, offering the TV access for free as part of a package for customers taking its internet and telephone services.
Earlier last month, BT took its first big step back into the mobile phone market as it launched a new business service aimed at delivering fixed line and mobile calls to the same handset.
It plans to launch a mobile offering for the wider public by the end of the financial year.
MoneySavingExpert.com managing editor Guy Anker said although it is standard practice for companies such as BT to increase their prices every year, it's "nevertheless a huge wrench for millions of customers."
"Yet the news is also a big trigger for any home phone and broadband customer to urgently check they're on the best possible deal.
"Millions pay more than £300 a year for phone and broadband but it's possible to slice these costs in half."