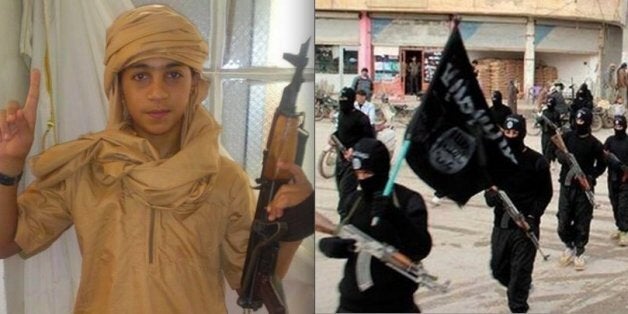 Posing with an AK-47 and with deep-set bags under his eyes, this baby-faced schoolboy is believed to be one of the Islamic State's youngest jihadists, aged just 13.
This troubling picture is said to show a young Belgian boy who left his country to become one of the many foreign fighters waging jihad in Syria.
Leading academic Shiraz Maher, a senior fellow at King's College London's International Centre for the Study of Radicalisation and Political Violence, posted the chilling image of the boy, who he named as Younes Abaaound.
Mr Maher said the boy travelled from Belgium with his brother Abdelhamid Abaaoud, 27, earlier this year and is believed be among dozens of child-fighters in the war zone recruited from Europe.
Posting the image on Twitter - one of several of Younes to surface online in weeks - Mr Maher wrote: "One of the youngest foreign fighters we know of Younes Abaaoud, who was 13 when he left Belgium to join ISIS."
Younes's father, reportedly a shopkeeper called Omar and originally from Morocco, has said the boy was taken to Syria after Abdelhamid had been brainwashed in Belgium.
Media reports in Belgium are not clear if the boy is fighting, or living away from the front lines.
For Europeans, travelling to Syria is a cheap flight to Turkey and a quick trip over the border, "so the problem is one faced by many countries", Reuters reported in March.
Several recent reports have already claimed to show children fighting for the terrorist group.
The image was posted with the caption: "That's my boy."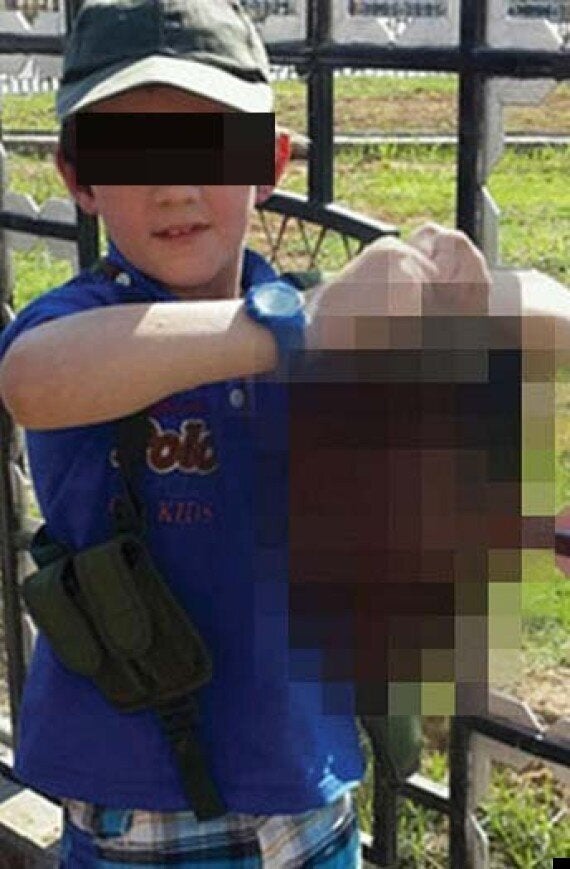 'That's my boy': This horrific picture was reportedly posted to Khaled Sharrouf's twitter account
The United Nations have voiced their condemnation, stating that the IS are responsible for recruiting children.
The Islamic State militants have gathered such a strong backing from foreigners taking part in "terrorist tourism" who do not speak Arabic that some units have reportedly had to employ translators to ensure orders are understood.
A documentary by Vice found one Islamic State unit in Syria that had to have interpreters who could speak Russian, English, French and Dutch.
In the harrowing film, young men with British accents echo the disturbing rhetoric expressed by Lee Rigby's killer Michael Adebolajo and declare jihad against the UK and United States.
The world was left horrified this week after a jihadist with an English accent brutally executed the American journalist James Foley. Footage issued by Islamic State militants that shows 'jihad John'
The jihadist in the execution video, which shows Foley kneeling in the desert with his head shaved and wearing an orange jumpsuit before he is beheaded, is believed to be the ringleader of a group of UK-born extremists, and using the name 'John'.
They are apparently responsible for guarding Western hostages in the stronghold of Raqqa, and nicknamed after members of the Beatles, with the two others dubbed Paul and Ringo.
Popular in the Community