Italy has hinted it could give up or cut the desperate search-and-rescue operation it runs to save the lives of thousands of immigrants who try to cross the Mediterranean - unless other EU countries help share the burden.
Italian Interior Minister Angelino Alfano has renewed his demand for the European Union to relieve pressure on Italy, which has seen some 100,000 migrants arrive so far this year alone - and hinted the country would stop the operations without help.
The country says it spends 9.5 million euros a month to operate the Mare Nostrum ('Our Sea') beefed-up air and sea patrols that were launched after more than 360 migrants drowned off the Italian island of Lampedusa last October. Rescued migrants on the San Giusto Navy ship, off the Sicilian island of Lampedusa, on Saturday
On Twitter, he said that, if other EU countries did not offer assistance, then: "Italy will make its own decisions."
He said the country could not get the second anniversary of Lampedusa disaster in October 2015 without help.
"The worse the problem of the Mediterranean border becomes, the more it becomes clear that Mare Nostrum must be replaced by a European action," he told the Milan newspaper Corriere della Sera.
"Illegal immigration, but also and above all the flight from wars and persecutions … are not an Italian issue: the migrants want to go to Europe. Mare Nostrum was born as an operation … after the Lampedusa tragedy.
"But we cannot get to the second anniversary on 18 October 2015. Either the question is taken in hand by Europe or Italy will have to make its own decisions."
His comments came after more than 260 people were feared drowned this weekend when two boats making the perilous journey sank.
The Italian navy recovered 18 bodies from the water but managed to rescue 73 survivors from a boat that was in trouble on Saturday night, The Guardian reported.
Another crowded boat is believed to sunk about half a mile from the Italian coast on Friday.
The Italian navy said that more than 3,500 people had been brought to shore since Friday.
The EU's home affairs commissioner, Cecilia Malmstrom, thanked Italy for its "huge efforts" to save lives and said in a statement she would meet Wednesday with Alfano "to better define priorities and provide assistance."
A sharp rise in migrant landings in over the summer was attributed to the calm summer weather and growing lawlessness in Libya, with hundreds of migrants now being intercepted by Italian authorities every day.
Most of them come from Eritrea, Somalia and Syria.
In one week in July alone, the Italian Navy rescued 1,500 people from rickety boats.
The Italian Navy released these images today which show some of the migrants rescued over the weekend.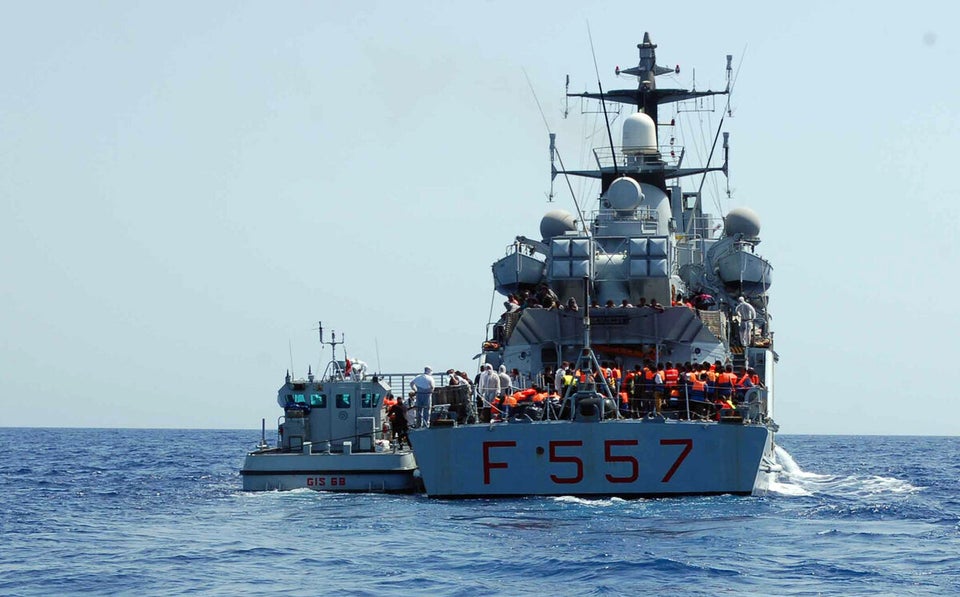 Italian Navy rescues migrants
Popular in the Community