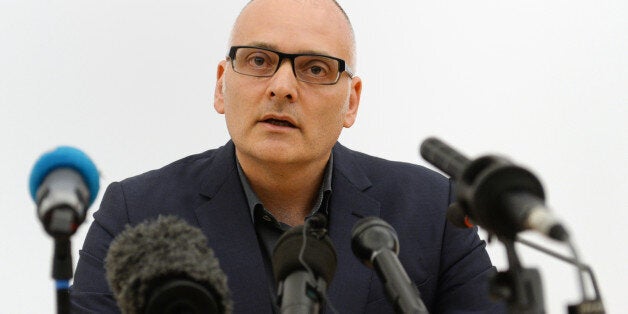 Britain's first confirmed Ebola patient has been treated with an experimental drug, it was revealed today. Doctors caring for William Pooley at the Royal Free Hospital in north London said he had been given ZMapp. Describing him as a "resilient and remarkable young man", medics said he was sitting up, reading and chatting to staff.
The 29-year-old volunteer nurse was flown back to the UK for emergency treatment after contracting the virus in Sierra Leone. ZMapp has been dubbed by some as the "cure" after two aid US workers were successfully treated for Ebola after taking it.
Today Dr Michael Jacobs, consultant and clinical lead in infectious diseases at the hospital, confirmed he had been given a first dose of the drug on Monday with more to follow "in due course". He said: "It is an experimental medicine, we made that absolutely clear in our discussions with him.
"We thought there was sufficient reason to offer it to him and have the discussion. He considered his options very, very carefully. He wanted to weigh up what we knew about it and he came to the very clear conclusion in his own mind that he would like to go ahead with the treatment."
He said it was "too early" to say what impact the drug has had but added: "Pleasingly, it seems to have had no side effects at all."
Dr Jacobs said they had acquired the ZMapp through the hospital's "clinical networks" and cited support they received from "international colleagues". Mr Pooley was said to be in "remarkably good spirits given the situation he finds himself in". Dr Jacobs said: "He is sitting up in bed talking, reading and chatting to the nurses. What has become apparent to us is that he is clearly a rather resilient and remarkable young man.
"Will is in a stable position and we are very pleased with where he is. It would be fair to say we couldn't hope to be in a better place today given how far he is into the illness." However, he cautioned that the disease has a "variable course" and the coming days will be "crucial".
"It is difficult for us to predict what is going to happen to him," the doctor said. "The next few days are very important. We are going to observe him very closely. We will know a lot more about where we are up to in about a week's time."
He said public health officials had contingency plans in place for the "unlikely" scenario that another patient needs treatment for Ebola in the UK. Mr Pooley, who comes from the small village of Eyke in Suffolk, was airlifted back to Britain by a specially equipped C17 RAF jet, and is being treated in a specialist isolation ward at the hospital in Hampstead.
Doctors clad in protective plastic clothing and wearing gloves and masks are caring for him in the strictly monitored ward. Dr Jacobs stressed that it was "business as usual" at the hospital, saying: "We are ready for this and provide for the UK the appropriate facilities."
He said public health officials had contingency plans in place for the "unlikely" scenario that another patient needs treatment for Ebola in the UK. Health Secretary Jeremy Hunt said Mr Pooley was being treated by "world class" doctors. He told Sky News: "We are very clear that the risk level from transporting Mr Pooley over to London remains very low.
"I'm actually really proud of what the NHS has been able to offer to a very, very brave man. I think the public can be reassured, not just by the precautions that we're taking but by the superb care that he's received." There is no known cure for Ebola, which is transmitted through sweat, blood and saliva.
The World Health Organisation says that more than 2,500 people have been killed by the latest outbreak in West Africa, where the fatality rate stands at 90% if it goes untreated.
Popular in the Community