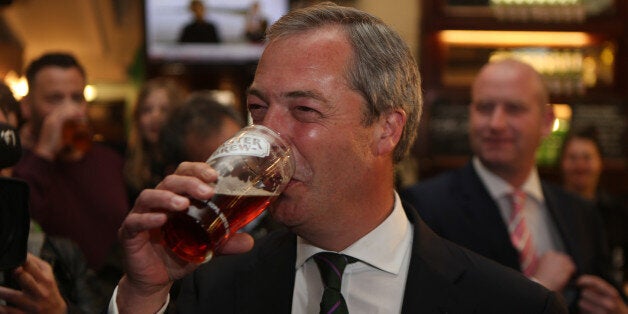 Nigel Farge is bracing himself for Conservatives and Labour Party "heavy artillery", after he was selected as Ukip's parliamentary candidate for the Kent constituency of Thanet South.
Local Ukip members in Ramsgate made the decision over beer, gin and tonics and pickled onion Monster Munch crisps on Tuesday evening at the Oddfellows Hall.
Farage faced competition from three other candidates, including lawyer Elizabeth Jones, who warned about "Islamic State deniers" in Hackney and Hampstead and worried about people with "fashionable views" in London and the capital's "thought police". But despite claiming to being nervous about the hustings, the Ukip leader's selection was never in doubt.
The final breakdown of the result of was not available however. The local party chairman told HuffPost the Ukip constitution allowed him to keep the details, including Farage's margin of victory and the number of votes cast, secret.
Farage told the meeting that Ukip was going to get its first MPs elected next year and could even be king makers. "Do not discount the possibility that we, in what is going to be a very tight election between the two legacy parties ... that Ukip in Westminster could hold the balance of power," he said.
However he warned that it would not be easy. "But don't think that the heavy artillery from the Conservative and Labour parties will not be fired on this constituency," he said. "They will, they will, they will try very, very hard. They don't want Ukip breaking through into Parliament and they most certainly do not want me breaking through into Parliament."
He added: "Somebody said I'm David Cameron's worst nightmare. Well, that's not good enough. I want to be Ed Miliband's worst nightmare, too."
Farage stood in South Thanet in 2005 but finished a distant fourth place. He had long been expected to give it another go and admitted today that his candidacy in the coastal town was "not necessarily the secret I intended it to be".
Farage's chances of making it to the Commons are much better this time than in previous years. A recent poll of marginal constituencies conducted by Lord Ashcroft put Ukip in first place in the seat on 32%, ahead of the Conservatives on 30% and Labour on 27%.
Ukip also topped the poll in the Thanet area at May's European elections, winning more than double the number of votes than the second-placed Tories.
Farage will have to overturn a 7,617 Conservative majority to win, but his challenge is helped by the fact the sitting Tory MP, Laura Sandys, will step down in 2015 after serving just one term.
In an attempt to prevent eurosceptic votes haemorrhaging to Farage, the Tories have picked Craig MacKinlay, a former Ukip leader, as their candidate. MacKinlay's candidature is sharp shift to the right for the local party, as Sandys is one of the most pro-European Union Tory MPs.
In the recent Newark by-election, won by the Conservatives, it is widely believed that some Labour and Lib Dem supporters decided to tactically vote Tory in order to prevent a Ukip MP being elected. However the selection of a former Ukip leader as the Conservative candidate in Thanet South could result in fewer traditional Labour and Lib Dem voters be able to stomach voting Tory.
Farage also sought to reassure locals that he despite preparing to front Ukip's national campaign in 2015, he would not neglect the constituency. "I will be here and I will be active," he said. "There's quite a lot of pubs, I've noticed."
Before his selection was announced, the party, once derided as full of "fruitcakes" and loonies" by Cameron, auctioned off a fruitcake in order to help pay for upcoming local campaigns. The winning bid was £30.
Related