"Everybody who meets me is tremendously disappointed," Jon Hamm tells me. I don't believe him.
He's discussing the mistake people make by assuming he and Don Draper are one and the same, and he makes a good case, but I still don't believe him.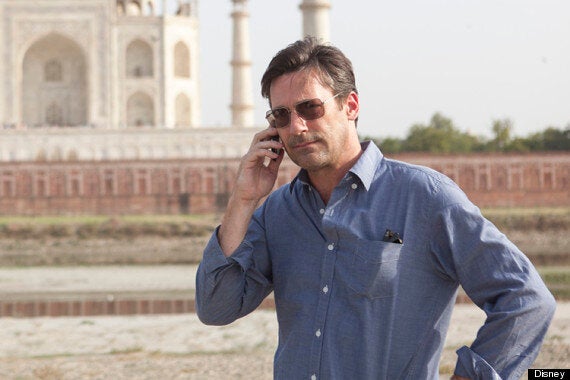 Jon Hamm plays sports agent JB in ' Million Dollar Arm'
"It normally takes people about 30 seconds to disabuse themselves of the notion I am remotely slick," explains Jon, warming to his theme.
"It's a tremendously well-written character, all credit to Matthew Weiner, but we are very, very different… thank God."
Lake Bell, Jon's co-star in 'Million Dollar Arm' out this week, confirms he's not lying. "Obviously, he's really good-looking, but, I don't know, he's kind of a goofy playball, which is very strange. I watch 'Mad Men' and associate that with him, and then he's sitting there, playing Angry Bird or Candy Crush."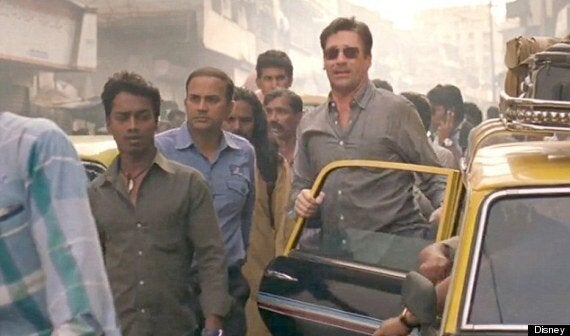 In 'Million Dollar Arm', JB has to travel to India to recruit new sportsmen to save his career
Things will eventually change, though, for even someone as well-equipped to play dastardly Don as Jon, as the iconic series has this year sealed the can on its final episode. What to do with all that money, fame and freedom?
"Doing nothing has been phenomenal," he smiles. "I took a month off after we wrapped, and it was just me, Jen (girlfriend Jennifer Westfeldt) and the dog. I saw some plays, met friends, had dinner, tried to re-engage with life.
"It's been a long, strange trip, eight years which is more than 20% of my life. It's been strange to say goodbye to it, but everything ends."
And, with ends, beginnings. This week finds Jon starring as JB, a cynical sports agent down on his luck, and with one last roll of the dice, or swing of the bat. In an inspirational tale based on a true story, he goes to India and recruits two young star cricketers and inducts them into the very American world of baseball. Think 'Jerry Maguire' meets 'Slumdog Millionaire'.
How we're used to seeing Jon Hamm - "everybody who meets me is disappointed" he says
Jon, himself a massive baseball fan, is equally impressed by the real man at the centre of the story.
"I've met the real JB Bernstein, and he's wildly intelligent, a big thinker. Agents are seen as slick, and he's definitely a salesman but he's trying to figure things out, and he continues to visit India years later. He's definitely emotionally connected."
So the same as Don Draper, but different, then?
"The diametric opposite," is how Jon puts it. "JB is inspirational and aspirational. Don was slick, too, but with him, I learned how not to be in this world."
'Million-Dollar Arm' is in UK cinemas from Friday. Watch the trailer below...
Popular in the Community