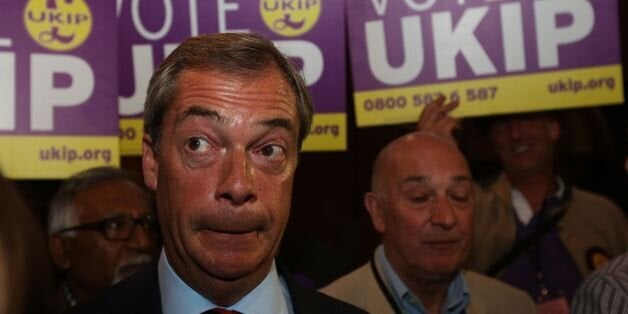 Nigel Farage has admitted he could be replaced as Ukip leader if his party fails to win a seat at next year's general election.
When asked on Good Morning Britain if he would quit as leader in the event of an unsuccessful election, he said: "In all of life if you succeed you get the laurels and the champagne and if you fail you get booted out. That applies to Ed Miliband, to David Cameron, to Nick Clegg and to me.
"If we fail next year the party will pick someone better than me. But we won't."
Addressing his poor result in 2005, gaining just 5% of the vote, Farage said: "10 years is a long time in politics - 10 years ago people did not see the Ukip message being relevant."
Mr Farage will now seek to win the Conservative-held seat against Craig MacKinlay, the former Ukip leader chosen to stand for the Tories, as incumbent Laura Sandys stands down.
He said he has "not one ounce of complacency", and reiterated Ukip is making gains by taking votes from across the three main parties.
Ukip's recent strong performance in Kent in this year's European elections has made victory in the seat appear a more realistic prospect.
Across the Thanet District Council area Ukip topped the poll, with 16,492 votes, more than double the votes cast for the second-placed Tories.
Speaking to supporters last night, Mr Farage said: "We can't for one moment afford to be complacent because we swept the board in 2013 and we swept the board here in 2014.
"We did and that was magnificent. But don't think that the heavy artillery from the Conservative and Labour parties will not be fired on this constituency.
"They will, they will, they will try very, very hard. They don't want Ukip breaking through into Parliament and they most certainly do not want me breaking through into Parliament.
"Somebody said I'm David Cameron's worst nightmare. Well, that's not good enough. I want to be Ed Miliband's worst nightmare, too."
Related